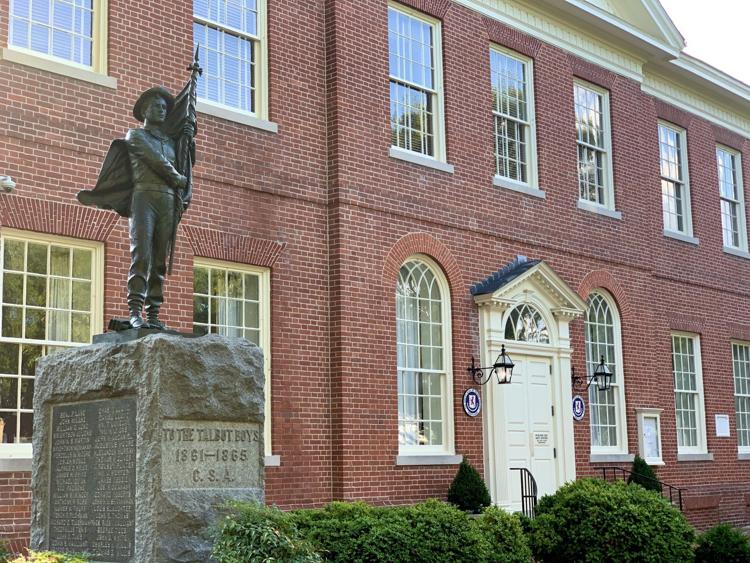 EASTON — If the Talbot Boys statue is removed from the courthouse lawn, where will be its final resting place? The most obvious perch is in the hands of local historians — though none appears eager to house the controversial memorial for fear of being cloaked in its divisive aura.
The Talbot Historical Society, for one, is not interested in inserting itself in the debate and has wholly rejected the idea that the Confederate monument be added to its collection of more than 10,000 artifacts, says Larry Denton, the organization's president.
For 65 years, the society has been a neutral source of county history. With Talbot County in the national spotlight for protecting one of the United States' last known Confederate monuments on government-funded land, Denton said, the society's agreeing to take in such a politically polarizing and high-profile item would put at risk that reputation.
"Our position is simply we don't want to get in the middle of that," he said. Denton acknowledged that housing the statue also likely would turn off donors on which the society relies as a private non-profit. "We have to stay as neutral as we possibly can."
But the society is not the only group of historians stiff-arming the statue, according to Talbot County Council Member Frank Divilio, who has been trying to convince a few different organizations to be the Talbot Boys' savior. Divilio declined to name the groups to protect them from public scrutiny.
Since Divilio sided with Council Vice President Chuck Callahan and Council Member Laura Price last month to keep the Confederate monument where it stands at the Talbot County Courthouse, he said he has faced a slew of criticism from people who took his vote against taking down the statue as a win for racism.
He has assured he's not racist and that his vote was designed only to delay action on the statue in pursuit of a more open government process, as citizens — for coronavirus safety reasons — were denied in-person access to the council's public hearing on the statue's fate in July.
Despite what he called the public's mischaracterization of him, he said he has continued working toward a solution to the issue. The controversy is too hot right now, though — and "nobody wants to even discuss" housing the statue for fear "they might be treated like me," he said.
Divilio has suggested the Talbot Boys monument live somewhere people who want to see it can do so, but he acknowledged that until someone rolls out a welcome mat, the stalemate will persist and the memorial will continue to avoid eviction from its century-long home on the courthouse lawn.
"I've just got to get a group to say, 'Yup. Bring it to us,' but I have to work through the weeds of taking the heat off of it," he said.
His preference for the statue's resting place, he said, would be "whichever organization stepped up and said, 'Our community's comfortable with this, our base is comfortable with this, and we've found it to be a good private-public partnership for those who want to see it.'"
Denton agreed that the statue should be preserved. He suggested a military cemetery or organization should take it in and place it alongside other war memorials — such as a Vietnam War Memorial, which he noted commemorates a war that carries its own controversy.
"People don't want to erase history. We ought to study and understand the Confederacy," he said, though he declined the notion that it might be the society's responsibility to be the statue's keeper.
Denton couldn't name any Confederate memorabilia in the society's possession currently. "We must have some things in our collection," he said.
He guessed there might be photos in the society's stack of up to 70,000 images, which he said likely includes those of people who fought in both sides of the Civil War and their families — but nothing like the Talbot Boys.
As a preserver of the county's history, the Talbot Historical Society's only responsibility is to present the past in a "balanced and fair way, and in a way that we don't offend any particular group," Denton said.