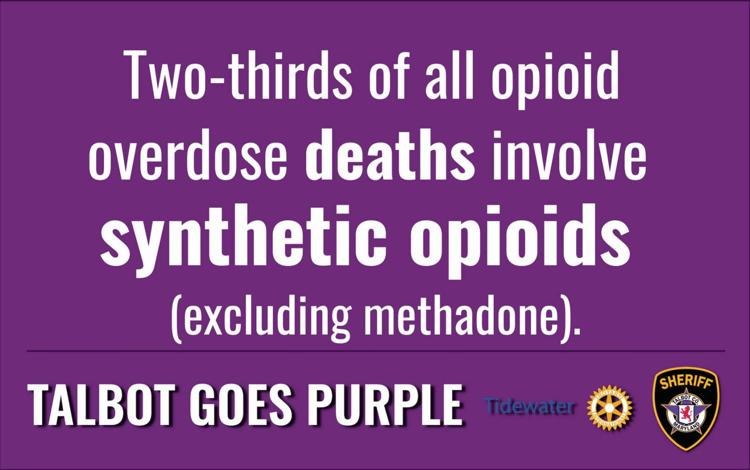 Two-thirds of all opioid overdose deaths involve synthetic opioids, primarily fentanyl.
Fentanyl is a powerful pain reliever that is 50 to 100 times more potent than morphine. It is prescribed as patches or lozenges, and illegally manufactured and then often mixed with other drugs like heroin and cocaine.
National overdose data from the Centers for Disease Control & Prevention includes four categories for opioids: natural, which includes morphine and codeine; semi-synthetic, which includes drugs like oxycodone and hydrocodone; methadone, which is a synthetic opioid; and heroin, which is illegal and made from morphine.
The CDC reports that almost 450,000 people died from opioid overdoses (all four categories), between 1999 and 2018. The rise of these deaths is put into three "waves" — the first involved increased prescribing in the 1990s. Driven by a variety of factors, the use of opioids for chronic pain started increasing in the 1990s, with substantial increases year-after-year. Purdue Pharma introduced OxyContin around this time, with aggressive marketing tactics that led to an explosion of sales. From 1996 to 2012, global sales went from $48 million to $2.4 billion. At the same time, the number of prescriptions written for opioids increased. In America, these prescriptions increased 300% between 1991 and 2009.
The "second wave" started in 2010, with rapid increases in overdose deaths involving heroin. Early efforts to curb overprescribing made it harder to get prescription opioids, and many people turned to heroin. Deaths from heroin-related overdoses increased nearly 300% from 2002 to 2013, with about 80% of heroin users admitting to first misusing prescription opioids.
The "third wave" began in 2013, when deaths from synthetic opioids like fentanyl started to increase. From 2013 to 2017, opioid deaths increased 90%, from 25,052 to 47,600, primarily driven by illegal fentanyl. Essentially, deaths started with prescription opioids, moved to heroin, and are now mostly from fentanyl.
In 2017 the U.S. Department of Health and Human Services declared a public health emergency and announced a five-point strategy to combat the crisis. Those five points are better prevention, treatment and recovery services; better data; better pain management; better availability of overdose reversing drugs; and better research.
Synthetic opioids are made in a lab, produce pain relief, act on the same parts of a brain as natural opioids and some are approved for medical use. Fentanyl, for example, was discovered in the 1960s and used only for surgeries. Clinical use expanded in the 1990s with the development of an extended release skin patch.
Talbot Goes Purple is an educational and awareness prevention program that empowers our youth and our community to "Go Purple" as a sign of taking a stand against substance abuse. The purpose of the program is to promote the "new conversation" – one that includes prescription drugs, alcohol, marijuana and e-cigarettes. TGP focuses on educating students about the dangers of tobacco, alcohol and other drugs, and works toward preventing kids from beginning to use these substances in the first place.
An initiative from the Talbot County Sheriff's Office and Tidewater Rotary, in partnership with Talbot County Public Schools, Saints Peter & Paul School and the Mid-Shore Community Foundation, Talbot Goes Purple empowers our youth and our community to "Go Purple" as a sign of taking a stand against substance abuse.
More information about Talbot Goes Purple is available at www.talbotgoespurple.org. Find us on Facebook @TalbotGoesPurple or contact us at talbotgoespurple@gmail.com.