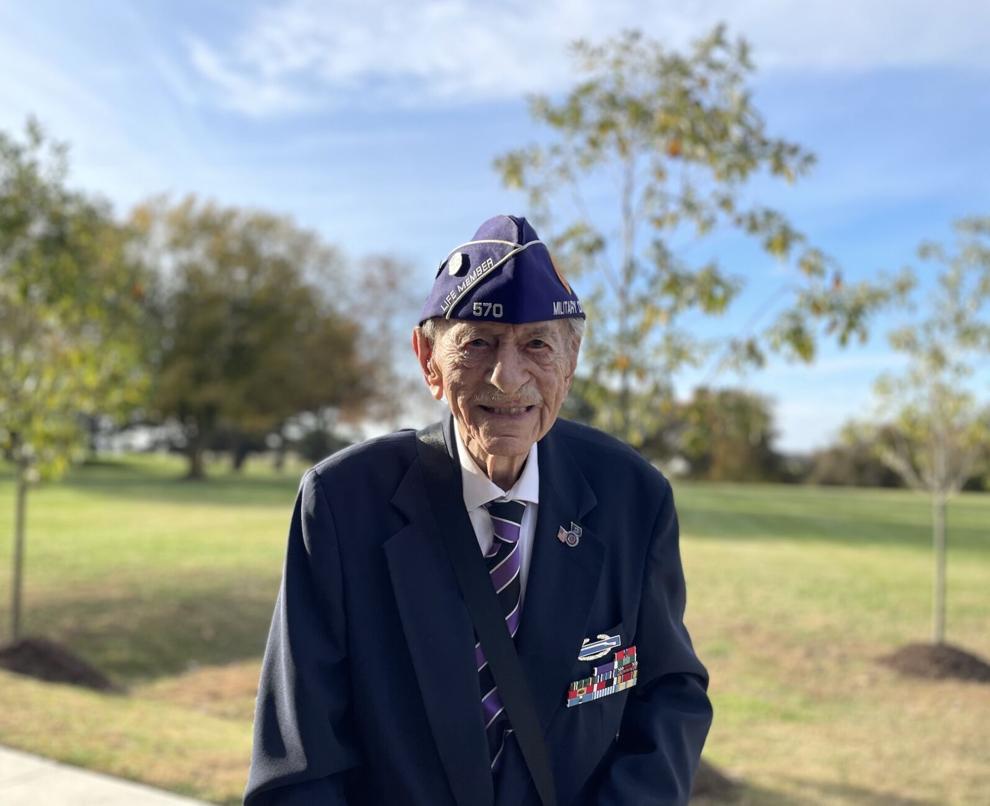 EASTON — Decorated World War II Army veteran and Hillsboro resident Ernst Selig turned 100 today, May 5.
Selig, who was born in Germany, came to the United States at age 15, and after the war began, he enlisted and served as an interpreter and in intelligence in fighting in Italy, France and Germany.
During his service in the war, he was decorated for valor he showed and the injury he sustained trying to rescue a German girl from danger.
He spoke about these and other experiences in the war in an interview on Veterans Day in 2021, and in a follow-up interview days before his birthday.
From Germany to America
Selig was born in Manhiem on the Rhine River in Germany, and in 1937 he journeyed to America on a ship, where he arrived in New York City.
"My father decided in 1935 or 36 that I would go to America," Selig recalled. "He announced at dinner one day that I would go to America."
He was 15 at the time.
"Naturally, I cried, I didn't want to go to America because of the Indians. So I bought an axe right away because in America you have to have an axe to protect yourself against the Indians," he said of his skewed perception of his soon-to-be home.
Promotion in rank (of sorts)
"I became a 'field marshal' before we got into France," Selig said. "The battalion was on exercises and the rule was wherever the Colonel of our battalion goes, that's where I go."
"So I went one exercise with him, and the general came down. The enemy (the American troops acting as the opposition forces) ran away. I said, 'This is no good, we need to have a better exercise,' so the colonel said, 'Tomorrow you command the enemy forces,'" Selig recalled.
Selig picked his men, then they dug trenches and covered them up. When the American forces came, they fell in the holes, and Selig's troops captured them.
"From now on, you're the 'field marshal,'" the colonel told Selig. The field marshal rank is the equivalent of a five-star general.
To the front
The unit did three or four more similar field exercises simulating opposition forces. On one, Selig and his handpicked men went with the colonel and captured the troops playing the role of the German opposition forces.
After training was completed, Selig was assigned as a replacement to a unit that needed a German linguist, so he boarded a troop ship that crossed the Atlantic and stopped in Oran, Algeria, where he stayed for several weeks and was made a temporary staff sergeant.
On the troop train, he was put in charge of one car, and Selig had to translate for the officer in charge of the train with the French-speaking train crew. Selig and the others boarded a ship to cross the Mediterranean Sea to get to Naples, the location of the replacement depot for the Allied forces fighting in the Italian theater.
A warrant officer processing Selig asked if he spoke German, and spoke it fluently, and after an affirmative response, Selig was assigned to a unit: the 45th Infantry Division, the National Guard unit from Oklahoma.
With the 45th Infantry
Selig joined the 45th at Monte Cassino. "The only battle I was not with them was on Sicily, I joined them after they got back from Sicily."
The day he joined, a lieutenant came to pick Selig up, and he was surprised when the officer picked up his large bag and carried it to the jeep: "In training, you don't see officers, only sergeants."
Selig arrived at his unit, where the major greeted him with a serious admonition upon arrival: "Don't do anything unless I tell you to."
"My battalion commander had a linguist before me, and he told me he got hit on the street — 'Don't go out, don't do anything unless I tell you to,'" the officer told him.
In the following days, the new arrival worked to acclimate himself to his new environment by talking with Moroccans on the French-speaking intelligence team of his new unit, and by reviewing maps with a fellow German-American soldier.
"Something's fishy," Selig said to himself. "There's something fishy. I don't know anything and I don't know why I'm here."
He went to talked to the major seeking permission to go on a patrol.
"I want to know what's going on," he told his commander. "Go with B Company tomorrow," came the response.
First patrol
On the patrol, some German forces were approaching on the other side of the treeline, and Selig asked the patrol leader if he could try to talk to the enemy and persuade them to surrender. "It's too dangerous," the lieutenant said.
Selig returned and reported to his colonel before going to sleep. He woke up to ambulances evacuating wounded soldiers — the Moroccans on the other intelligence team had taken serious losses from a dug-in German unit.
The war progressed and while the 45th was still fighting in France, Selig was put in charge of the intelligence unit, a six-man team team with two French speakers, two other German speakers and one Spanish translator.
"It got to the point later on, I tried to get an interpreter in every rifle company, because it was very important — the sooner you can interrogate people, the better off you are," Selig said.
Valor and injury
The 45th fought into Germany and in Fürth, a small town next to Nuremberg. Selig had 13 prisoners to interrogate, and his partner, a fellow German linguist named Fritz, was elsewhere.
"One of my company commanders called me up and said, 'There's a little girl running around the street behind us, get her off the street before she gets hurt,'" Selig recalled.
While it was unclear why the little German girl was in the street, the danger she faced was clear. "So I grabbed a bicycle and I tried to pedal it down there," Selig said. "The (German) artillery observer was behind me in a railroad tower."
The German observer in the two-story railroad control tower likely saw Selig and thought he was a messenger, so he ordered two artillery rounds to be fired, one on each side of the street.
"He ordered the guns to fire at the houses, so smashed up two or three houses, which was foolish. The debris from the rooftops hit me, and I was down and I was unconscious," Selig said, "When I came to, I grabbed my weapon and my helmet and left the bicycle and ran back to headquarters."
He saw his lieutenant, and called for him, "Stewart, Stewart!"
"I told you to call me Lieutenant Steward … forget it, you're bleeding all over," the lieutenant responded.
"I said, 'Yeah, I got hit," Selig replied.
Selig was given a tranquilizer and put on a medical train to an evacuation hospital. While on the gurney in triage, the doctor told him what procedures were about to happen. Selig was asked if he wanted to keep or lose an injured finger.
"It'll be stiff," Selig was told.
"Well, I want to keep it," he replied.
Meanwhile, Selig was interpreting for the doctor caring for a German prisoner of war in the adjacent bed.
"We want to keep this guy because he can tell us what's going on," the other doctor said.
"I don't want to stay here, I want to go back to my unit," Selig replied.
The friendly interrogator
Selig had lots of work during the war talking to captured Germans. He believed in a different approach to interrogation, the one his fellow interrogator and friend Fritz embraced. Fritz, who came to America when he was 4 years old, embraced an American colloquialism: "You catch more flies with honey," Selig said. "He taught me that."
"The problem is that you can try to scare people into telling you, or you can get people to like you so they tell you the truth," he added. "If you scare them into telling you, they'll tell you what you want to hear."
The prison escort would tell the interrogators, "This man gave up." Fritz would shake the man's hand and say, "Thank you for coming to your senses, we are happy to have you. You're going to go to prison camp, and then you're going to go home and have a wife and children."
"The prisoners were wonderful, they told us everything we wanted to know," Selig said; however, "If they were captured, we wouldn't shake hands."
"Gen. Eisenhower issued an order that we were not supposed to shake hands with a prisoner, but we ignored that for the people who gave up voluntarily," Selig confided.
Selig estimated he did about 120 total interrogations, about one or two a day during the campaign, and of those, only two wouldn't talk to him.
One was an airborne lieutenant, who only provided Selig with his name, rank and serial number.
Selig called for prisoner escorts to take the German officer, a detail led by a corporal named Brave. Brave was a "little guy," Selig said facetiously, about 6-foot-2 and 200 pounds. "When he shook hands with you, you rubbed your hands afterward (because of the strength of the grip), but he was a nice guy."
Selig asked Brave to come himself instead of sending two privates. "Stand up," Brave barked to the prisoner when he entered the room. "He doesn't speak English," Selig replied. "Well, he's gonna learn," Brave said.
Brave explained to the prisoner through Selig that due to U.S. Army safety regulations, Brave, the prisoner and the rest of the detail would have to take turns riding in the jeep and running in front of it.
They left, and about a half an hour later, the regimental interrogator called Selig asking why he had sent the prisoner. "He wouldn't talk," Selig said. "What do you mean he wouldn't talk? He has diarrhea of the mouth, I can't stop him from talking," came the retort. Selig asked Brave what happened. "We didn't abuse him, we ran," said the sergeant. Selig explained that the running shouldn't have been a problem for the paratrooper, as airborne units have higher levels of fitness. "He didn't want to run ... so, he talked."
The other case was a German lieutenant colonel who had served as a combat engineer on the Russian front. Selig's unit had received information that the German army was putting secret messages in watches, so he made a practice of checking the watches — especially pocket watches — of all of the prisoners. He was checking the officer's watch, and the prisoner said, "All you want to know is how many diamonds are there."
"I don't care about diamonds in the watch," Selig replied.
"If it doesn't have enough stones, you'll probably give it to your sergeant," the German solider said. "Otherwise, you'll keep it."
"You're insulting me. You're trying to make me believe I'm stealing from you. I tell you what I think about your watch," Selig said, and he threw the watch on the ground and stomped on it. "I was angry," said the otherwise stoic and imperturbable Selig. "I shouldn't have been, but I was. So, he lost the watch and he didn't talk."
In an interview on April 25, Selig was asked about happy memories of his youth in Germany.
"Once Hitler was in power, there was nothing happy anymore."
Selig recalled multiple instances of watching Hitler's motorcade pass in front of his house. Selig and his family lived on the road that led to the airport, and the residents of the area would gather to watch the nation's leader pass by.
One day Selig's mother told the children they could no longer watch the motorcade pass by from the balcony as they had done before for fear that they would get in trouble for not giving the Nazi salute.
Celebration and rules to live by
Selig talked about his upcoming birthday celebration plans, reminisced about memories from his youth and gave advice to those aspiring to longevity.
He and his loved ones are planning celebrations for the upcoming weekend; one with immediate family, one with neighbors and community members and another with a religious focus.
For advice for healthy living, Selig said proper diet and hydration was essential.
As far as practical advice, Selig shared the five points he inculcated into his children, as well as those working under him in the military and civilian sector:
1. Be honest
2. Don't embellish
3. Don't steal
4. Wear a proper uniform of the day
5. Be punctual
Mike Detmer is a staff writer for the Dorchester Star and Star Democrat based in Maryland. You can reach him at mdetmer@chespub.com.