Talbot County Council to hold public hearing on Lakeside water, sewer repeal on Oct. 12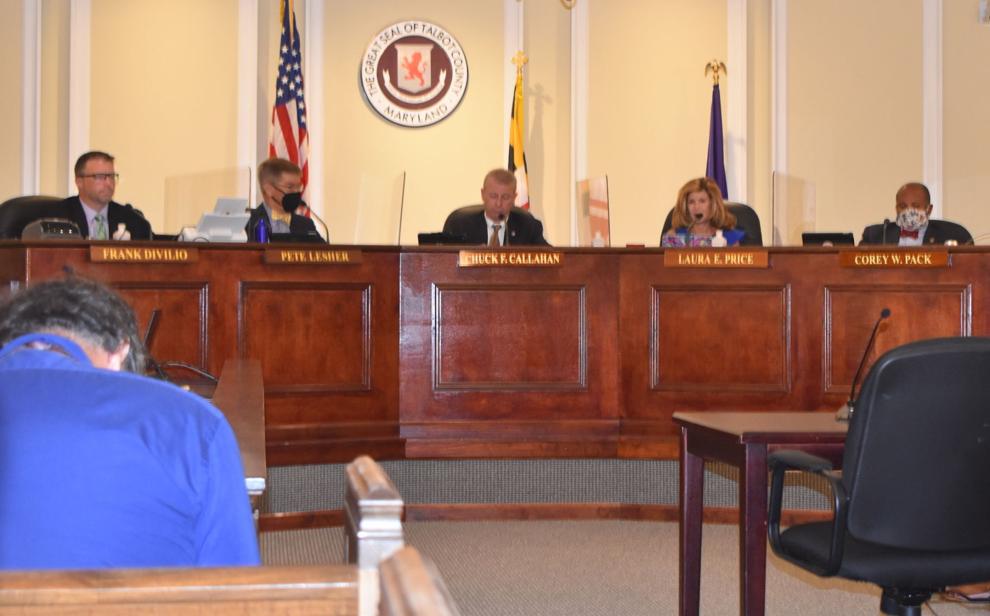 EASTON — The Talbot County Council will hold a public hearing on Oct. 12 concerning a resolution that would rescind water and sewer approvals for half of Lakeside at Trappe, legislation that four council members protested during an impassioned debate and comment period.
County Council Vice President Pete Lesher introduced the resolution at an Aug. 25 meeting, despite intense prodding by his four fellow council members, each of whom urged Lesher to reconsider introducing the legislation.
"I have concerns with adding the biggest neighborhood Talbot County has ever had. But this is not the direction to go," said Councilman Frank Divilio. "I haven't received any recommendations on why to do this. I am all for hearing public comment, but there is a way to do that. This is not that. I will not be supporting this tonight."
If passed, the resolution will strip away the county's official water and sewer legislative approval for the 2,501 housing development in Trappe.
But the county attorney, Patrick Thomas, said even if the resolution passed, the council would still need to amend the comprehensive water and sewer plan to formally eliminate the governing body's approval for the site — because 281 acts as preliminary legislation ahead of the Maryland Department of the Environment's (MDE) final nod.
"At this point, there is nothing for the council to rescind. You gave your preliminary approval, and it went on to MDE and they gave final approval," said Thomas. "The only way to theoretically undo 281 would now be to do another comprehensive water and sewer plan amendment."
MDE approved the development plan with a discharge permit in December 2020, and is poised to do so again after a local judge ordered the state agency to hold another public hearing for the permit on Oct. 28.
Lesher said questions had been raised by the development, including the connection of the development's first 120 homes to the town of Trappe's existing wastewater treatment plant, which is operating with outdated technology and currently discharges effluent into LaTrappe Creek, an impaired waterway.
"We've heard from a growing number of constituents who are concerned that their issues with this was not heard," he said, citing concerns with the existing wastewater plant. "Trappe does eventually plan to upgrade that plant to modern (enhanced nutrient removal) discharge standards, but that upgrade is still years away. My goal in this process is to give the issue a fresh public hearing for the benefit of both the proponents and the skeptics."
Lesher's resolution comes after a petition, signed by Dan Watson and about 227 other Talbot County residents, urged the council to introduce legislation rescinding water and sewer approval for the development because aspects of Lakeside's design plans had changed since 281 passed in August 2020.
On similar grounds, ShoreRivers successfully won a lawsuit in the Talbot County Circuit Court in April, which forced the MDE to hold its public hearing in October for a new discharge permit. The environmental organization argued that nearly every aspect of the permit had changed between the draft permit and final permit, and the public could not comment on it.
Concerns linger from residents and environmentalists over a wastewater plant that will spray an estimated 540,000 gallons of treated sewage on crop fields near some residential homes and critical waterways like Miles Creek.
But when introducing the legislation, Lesher focused on his issue with Trappe's current treatment plant, which Watson and petitioners contend is violating its permit because of outdated technology.
Councilwoman Laura Price, however, countered Lesher on the connection with the first 120 homes of Lakeside at Trappe to the town's existing plant.
"It's going to take years to build 120 homes. What I have been told is those homes will not stay on the Trappe plant," she said. "Whatever homes there are — whether that is 10, 20, 100 — will be moved over. So again, I have very important questions I want answered about the process. But I am not as concerned with the process that all of a sudden tomorrow, there is 120 homes on a (biological nutrient removal) plant."
The council will hold a vote on the resolution after the public hearing in October, which would likely fail given four council members are still deeply set against the rescission, and are unlikely to change views unless new information surfaces.
Councilman Corey Pack told Lesher that "this just doesn't do it" and that "there were things in 281 that were good," such as splitting the development's water and sewer approval into S1 and S2 status.
"This is a bridge to nowhere. I will also agree with Mr. Divilio — it is a waste of time. It doesn't accomplish anything," said Pack. "It's really putting the council into a bad position to put something on the agenda for a public hearing, which you very well know is not going to accomplish anything."
After Lesher introduced the resolution, Price asked her colleague to change the hearing date from Sept. 14 to Oct. 12, which the council agreed to after some political wrangling on the efficacy of information gathering.
Price wanted to wait for more information from MDE, while Lesher wanted to hold another hearing as soon as possible to gather details from the public. But Price said Lesher's resolution was not the right "vehicle for it," and she had confidence that her questions about the development were going to be answered by MDE.
"I trust MDE, that they will get that information for me," she said. "Once we get all that information, then we can make a decision — an informed decision — on whether to amend the comprehensive water and sewer plan."
The council expressed concerns with the growing opposition to Lakeside at Trappe, citing emails and phone calls to the planning commission that have inundated the county in recent weeks.
County Council President Chuck Callahan said much of the fighting over the development has led to to a "negative" view of Lakeside at Trappe — and a lack of public support of the small town for Trappe.
"I think we need to help Trappe and look at Trappe's future," he said. "We want to do things right. The council here did things right, we went through a long process to get to this point. Obviously they have started that project and I think Trappe wants to do things right ... people think Trappe pulled some wool over our eyes, and I don't think that."
Callahan said the council is looking forward to "giving opportunities to people to live" in Trappe, and that MDE's upcoming public hearing would answer some critical questions.
Some council member's comments seemed to suggest that while they had a lot of questions about the development, their hands were tied on Lakeside at Trappe.
Divilio said the public record the county would keep and maintain on Lesher's resolution would be "for naught." Price asked residents to voice their opinion at the Oct. 28 public hearing to be held by MDE, rather than taking their concerns to the county, because the state is the final authority.
"All the people that want to speak to us — we have no more power," she said. "We can't do anything, but MDE can."