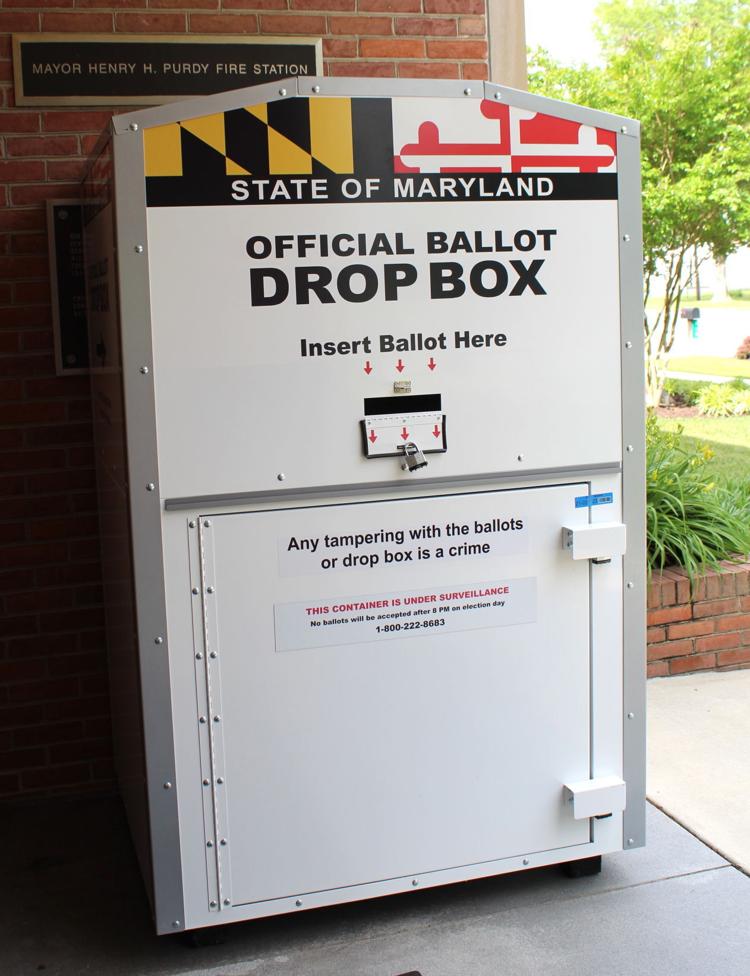 EASTON — There are less than 70 days until Election Day, but Talbot County residents still have time to register to vote and request a mail-in ballot. Talbot County Election Board's Election Director Jeri Cook wants voters to know their options for registering to vote and casting their ballot.
Marylanders can register to vote, update their address or check their registration online through Maryland's State Board of Elections at elections.maryland.gov/. Cook said they can also call the Talbot County office at 410-770-8099.
"If they don't have internet access, they can call our office to check their registration," she said. "If they need to register to vote, we can mail them the application which they can return to our office by hand or mail back."
Cook added once the voter registration application has been received by their office, voters should receive their voter registration cards in seven days.
According to the State Board of Elections, the close of voter registration is Tuesday, Oct. 13. Marylanders can also register in person during early voting and on Election Day at a polling place in the county they live in. To register in person, voters should bring proof of residency in the form of a MVA-issued license or ID card; or a paycheck, bank statement, utility bill, or other government document showing a name and address.
As election day nears, voters have different options to cast their ballot, mail-in voting, early voting, or voting in the general election. The deadline to apply for a mail-in ballot is Tuesday, Oct. 20. Voters can request their ballot application online at the State Board of Elections website or by contacting the Talbot County Election Board. Cook said those who are interested in voting via mail-in ballot should act early to ensure they receive their ballot and are able to return it by the postmarked date.
"We are asking — because of the influx — as soon as they receive the ballot application in the mail to turn right around and get it back in the mail," she said. "We don't want to hold it up in any way, shape or form, because we get so many right at the end. We want to make sure that there's plenty of time to get that ballot back to the voter, so that they have time to get that ballot back to us before the election."
In addition to the traditional method of mailing ballots via the U.S. Postal Service, Maryland's State Board of Elections is planning to distribute ballot boxes throughout the state — similar to the boxes that were distributed during the primary election.
On Wednesday, Aug. 19, the State Board of Elections voted to increase the number of ballot boxes that will be placed throughout the state. Local boards of elections will open ballot drop boxes soon after they are delivered. A schedule of drop box openings and drop box locations will be made available at a later date.
The board also voted to authorize local boards of elections to begin canvassing mail-in ballots no earlier than Thursday, Oct. 1. Results of canvassing will be embargoed until 8 p.m. on Election Day, Nov. 3. The canvass is the official tally of votes for the election.
For voters who choose to vote in person, early voting begins Monday, Oct. 26, and goes through Monday, Nov. 2. Talbot County's early voting center is located in the Bingo Hall at the Easton Fire House, 315 Leonard Rieck Drive (also known as 315 Aurora Park Drive), Easton, Maryland 21601. Early voting will be open from 7 a.m. to 8 p.m. daily.
Pending State Board approval, voters can cast their ballot at any of the four polling places in Talbot County from 7 a.m. to 8 p.m. on Election Day, Nov. 3. The four approved polling places for Talbot County are:
Easton Fire House
315 Leonard Rieck Drive
AKA: 315 Aurora Park Drive
Easton, MD 21601
Easton High School
Cafeteria
723 Mecklenburg Avenue
Easton, MD 21601
St. Michaels Middle-High School
200 Seymour Avenue
St. Michaels, MD 21663
Tilghman Fire House
5979 Tilghman Island Rd
Tilghman, MD 21671
Voters who have questions about their polling place can contact Talbot County's Election Board or visit their website at talbotcountymd.gov/index.php?page=Election_Board.
Members of the Republican Central Committee of Talbot County (Talbot GOP) are committed to helping Talbot County residents cast their ballots in the upcoming election.
"What we want to do at the Central Committee — and I think this is true of almost everybody I talk to — is make sure the voters have full knowledge of what their options are," said David Reel, chairman of the Talbot GOP. "We want to tell everybody, 'Not voting is not an option.' There's just no reason not to vote. One of our core messages is 'You need to vote in this election and every election.' Elections are important."
Reel said normal voter registration drives have been hampered by the COVID-19 pandemic, but Talbot GOP is looking at all options to help voters get registered and get to the polls. Those who are interested in volunteering or are looking for more information can visit their website at talbotgop.org.
On the other side of the aisle, members of the Talbot County Democratic Central Committee (Talbot Dems) are also committed to ensuring Talbot County residents can vote in the upcoming election.
"There's never been a more important time to have a plan to vote, and that's what we're really focusing on," said Patrick Firth, chairman of the Talbot Dems. "We're doing a lot of voter education, not just 'Are you registered to vote?' but on the method, whether it's vote by mail, or in-person early voting, or on Election Day."
Firth said Talbot Dems is devoted to helping voters figure out a plan, from how they'll be casting their ballots to how they'll get to the polls if they choose to vote on Election Day. They're inviting anyone who wants to volunteer for voter education to contact them through the website at talbotdems.org.
Another thing volunteers can do to help with the elections this year is volunteering with their local election boards. The State Board of Elections is still calling for additional election judges. A press release issued by the board reads, "The State Board of Elections also encouraged Marylanders to sign up to serve as election judges. Allegany County is looking for Democratic judges. Baltimore City and Baltimore, Montgomery, Prince Georges', and Talbot Counties are looking for Republican judges. The majority of local boards report they can now staff all of their voting locations, but all counties still need substitute judges. To sign up to become an election judge, visit elections.maryland.gov."