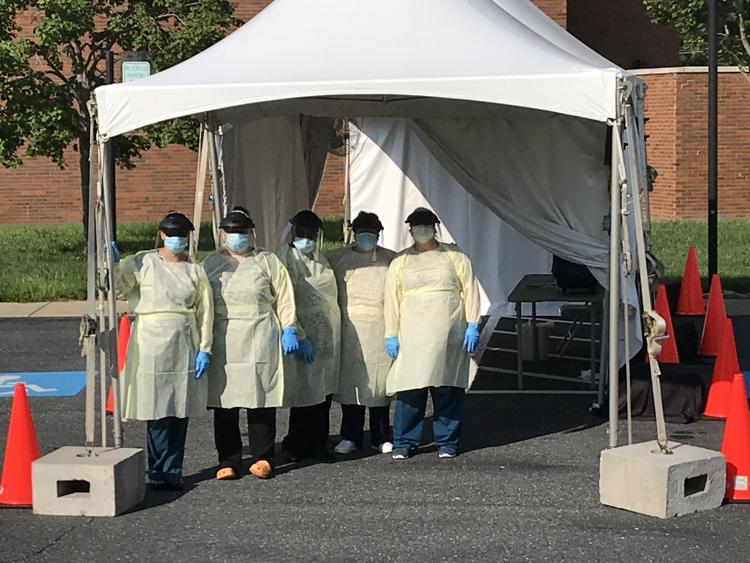 EASTON — More than 50 Talbot County residents became infected with the coronavirus during the past two weeks, five were hospitalized and a seventh resident has died of the associated respiratory illness, according to county health data.
As of Monday morning, Aug. 24, Talbot is reporting 82 active infections among residents and 455 confirmed cases of the virus to date — an increase of 52 cases since two weeks ago on Aug. 10.
Since the pandemic infiltrated the county in March, seven residents are confirmed to have died from COVID-19, 50 residents have required hospitalization and 366 have recovered, the health department reported Monday.
Nearly 80% of all recorded infections in Talbot have occurred among Easton residents, with a total tally of 362 confirmed cases in the town, according to zip code data from the Maryland Department of Health.
The same data show 24 cases have been recorded in Trappe, 21 in St. Michaels and 17 in Cordova. The remaining 31 cases' locations are unknown because MDH does not disclose virus data for zip codes reporting fewer than seven confirmed cases.
Of the Mid-Shore's five counties, Talbot is the third most-infected behind Caroline and Queen Anne's counties. Queen Anne's is reporting 517 confirmed infections; Caroline, 479; Dorchester, 430; and Kent, 254, according to MDH data.
Talbot's coronavirus death rate, however, is low with 1.5% of infected residents dying from COVID-19 — compared to that of Kent at 8.7% with 22 deaths and Queen Anne's at 4.8% with 25 deaths since the pandemic's onset.
Dorchester County is reporting a 1.2% death rate with five residents having died of COVID-19 to date. Three Caroline County residents are reported to have died of virus-related illness, making Caroline's death rate 0.6%, state data show.
Talbot County continues to process a high volume of virus tests — mainly at the Easton High School drive-through site, which has administered 1,925 tests since it opened on June 8. The county's population, of which 25.5% have been tested for the virus during the health crisis's entirety, also remains among the most-tested of Maryland's 24 jurisdictions.
The EHS site, operated by the county health department, is open from 8:30 a.m. to 12:30 p.m. on Tuesdays, Wednesdays and Thursdays by appointment only, and exclusively to Talbot County residents.
To schedule an appointment, call 410-819-5632. No doctor's referral is required, and the cost will be covered for those who do not have health insurance.
Also contributing to Talbot County's high testing volume is University of Maryland Shore Regional Health's partnership with Chesapeake College to operate a drive-through test site on the college's campus in Wye Mills. The campus test site primarily serves residents of the Mid-Shore's five counties.
Pam Addy, vice president of ambulatory and clinical services at UM SRH, said in a press release Monday the Chesapeake College test site was erected in response to a need for increased community-based virus testing during the pandemic.
"We are pleased to partner with Chesapeake College and our five county health departments in our region to provide additional drive-through testing on the Eastern Shore," Addy said, adding the campus was the "perfect" central location for the testing operation.
Appointments for testing are required and are offered between 8:30 a.m. and 12:30 p.m. on Mondays and Wednesdays, based on availability. Turnaround time for test results at the Wye Mills site is "typically 48 to 72 hours," the press release stated.
Those who wish to be tested for the virus there can schedule an appointment for a free test by visiting https://www.umms.org/shore/coronavirus/testing-locations and following the link to "Schedule a free COVID test online."
After getting tested, individuals can sign up for electronic access to their results through UM SRH's MyPortfolio online health information system. A nurse also will call those who were tested there with their test results if they do not view their results online, the regional health system said.
In order to prevent the further spread of the coronavirus and to ensure compliance with statewide COVID-19 restrictions in Maryland, the Maryland Emergency Management Agency (MEMA), MDH and the Maryland State Police recently established a toll-free "COVID Prevention Line."
Residents can call 1-833-979-2266 or email prevent.covid@maryland.gov to report "situations where guidelines are being ignored or the potential for spread of COVID-19 is high," according to a recent Talbot health department press release.