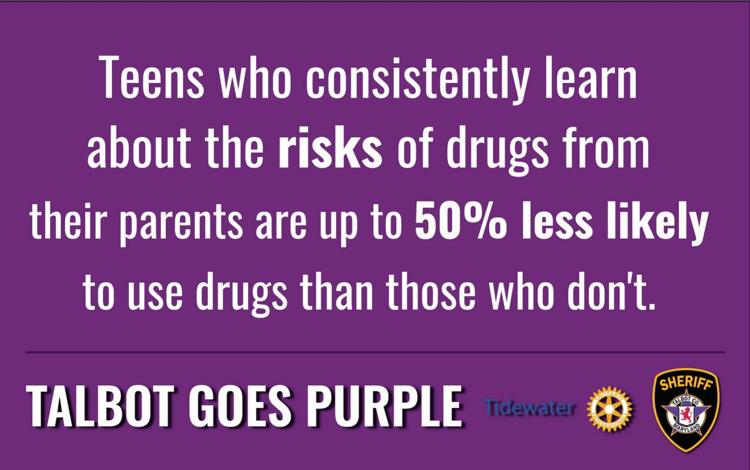 Drug overdose has become the leading cause of accidental death in the nation, and most people who develop a problem with substance use started using before the age of 18. One of the most effective ways to prevent kids from starting in the first place comes from parents — in fact, talking with your kids about the risks of drugs can cut their risk in half, according to the Substance Abuse and Mental Health Services Administration.
One of the most influential factors during adolescence is a strong, open relationship with a parent. When a parent creates a supportive and nurturing environment, children make better decisions. SAMHSA encourages parents to talk early and often, and honestly and directly. Talking is so important that SAMHSA has developed a campaign about it, called "Talk, they hear you," which includes five conversation goals.
1. Show you disapprove of underage drinking and other drug misuse.
2. Show you care about your child's health, wellness and success.
3. Show you're a good source of information about alcohol and other drugs.
4. Show you're paying attention and you'll discourage risky behaviors.
5. Build your child's skills and strategies for avoiding underage drinking and drug use.
SAMHSA also has a mobile app geared at talking with your kids about alcohol. The interactive app is available on the App Store, Google Play and Windows Store.
Short, frequent discussions can really affect how your child makes decisions about alcohol and other drugs. SAMHSA stresses the need to start talking young, then keep talking and get into the habit of chatting daily. Daily talks will make serious conversations easier.
In addition to SAMHSA, there is a wealth of resources from the Partnership to End Addiction (drugfree.org). The Partnership encourages parents to connect and talk; encourage healthy risk taking; set limits and monitor behavior. Tips for talking include "touch points," which are opportunities in daily life that offer teachable moments. The website offers specific ways to talk with your kids, broken down into age groups, starting at preschool and on up into college age.
Along with daily chats, everyday activities can help buffer kids against substance use. Simple things like having dinner together as a family; asking about your child's day; playing a game; and giving hugs can have a big impact. The Partnership in 2001 founded Family Day, which is the fourth Monday in September, and promotes daily activities that can help prevent teen drug use. Visit the Family Day site at casafamilyday.org.
Talbot Goes Purple is an educational and awareness prevention program that empowers our youth and our community to "Go Purple" as a sign of taking a stand against substance abuse. The purpose of the program is to promote the "new conversation" – one that includes prescription drugs, alcohol, marijuana and e-cigarettes. TGP focuses on educating students about the dangers of tobacco, alcohol and other drugs, and works toward preventing kids from beginning to use these substances in the first place.
An initiative from the Talbot County Sheriff's Office and Tidewater Rotary, in partnership with Talbot County Public Schools, Saints Peter & Paul School and the Mid-Shore Community Foundation, Talbot Goes Purple empowers our youth and our community to "Go Purple" as a sign of taking a stand against substance abuse.
More information about Talbot Goes Purple is available at www.talbotgoespurple.org. Find us on Facebook @TalbotGoesPurple or contact us at talbotgoespurple@gmail.com.
Talbot Goes Purple is a component fund of the Mid-Shore Community Foundation, a 501(c)(3) nonprofit organization — donations to which are tax deductible to the fullest extent allowed by law.