HURLOCK — Teachers and students from Hurlock Elementary School celebrated a Virtual Spirit Week despite not being in school due to concerns over the spread of the new coronavirus.
The Spirit Week began Monday, March 23, with a celebration of National Puppy Day, and students were encouraged to share a picture or video of themselves reading to a pet, real or stuffed.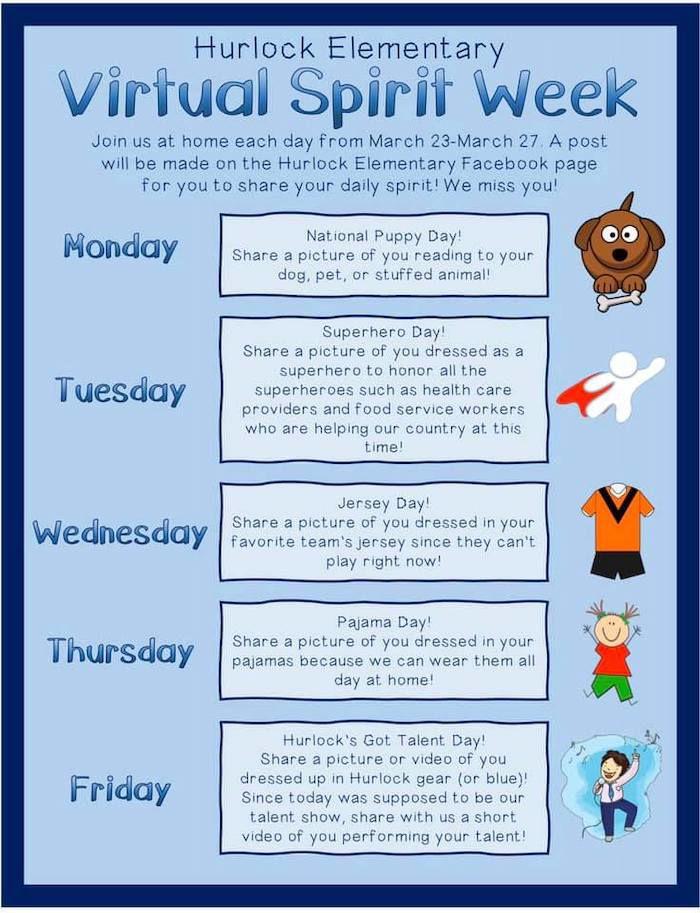 Tuesday's Superhero Day focused specifically on the health care providers and others at work to keep the county and nation functioning.
Wednesday's Jersey Day fondly remembered and looked forward to favorite sports teams sidelined by the current virus response, and Pajama Day on Thursday celebrated the current uniform of the day.
Friday's theme paid tribute to the Positive Behavior Interventions and Supports Talent Show originally scheduled for Friday, March 27. Students are asked to share their talent while dressed in HES gear.
On each day, families of students are asked to share a picture — or a video if applicable — of their student participating.
HES pre-K teacher Amy Stoops said she got the idea from a friend whose school in Pennsylvania is having a similar event. Stoops said she received permission for the idea earlier this week from HES Principal Bobby Helgason, and then collaborated with Helgason, HES guidance counselor Heather Powell and HES teacher Dawn Corkran to firm up details.
Stoops said, "I wanted to make each day unique and different from a regular spirit week, plus something I knew all the kiddos could do at home without having to go shopping for something."
Stoops, who is one of HES' two PBIS coaches, said Friday's spirit day is focused around talent, as the scheduled talent show for that day had 35 acts with about 50 students who had auditioned to perform.
The goal of PBIS is to promote positive behavior choices at the school using monthly incentives like pizza parties, the talent show and other rewards for students to work toward each month, Stoops said.
Students receive Eagle Stamps for showing positive behavior choices and following school rules, said Stoops, who continued, "We won't rest until we're the BEST: Be respectful, encourage others, stay safe and try your best."
Dorchester County Public Schools Communications and Community Outreach Specialist Valerie Goff said a similar virtual spirit week is planned for Maple Elementary School, and events like this are,"a fun and creative way for the school staff and students to connect while schools are closed."
"I love creating fun activities for the whole school," Stoops said. "I just knew I had to make one for HES."