RIDGELY — Spirits were high in the stadium at North Caroline High School as the class of 2021 celebrated graduation Tuesday, June 1.
Wearing bright blue gowns and white stoles, 246 North Caroline seniors graduated in an outdoor commencement ceremony, an opportunity the class was grateful for after facing the possibility of separate ceremonies earlier this spring. Despite online learning tossing challenges at the seniors all year long, the class adapted and persevered throughout.
"We have felt the challenge of this pandemic but our generation — the class of 2021 — gets to decide how this starts a new beginning and what we can overcome," said Class President Jalen Carroll as he addressed his fellow graduates.
Carroll recounted some of his favorite memories as a Bulldog, saying that he'll miss being under Friday night lights at football games, hearing "Sweet Caroline" play after every home game win, going to pep rallies and more. He'll even miss the not-so-good parts of high school: complaining about too much schoolwork and waking up early for the morning announcements.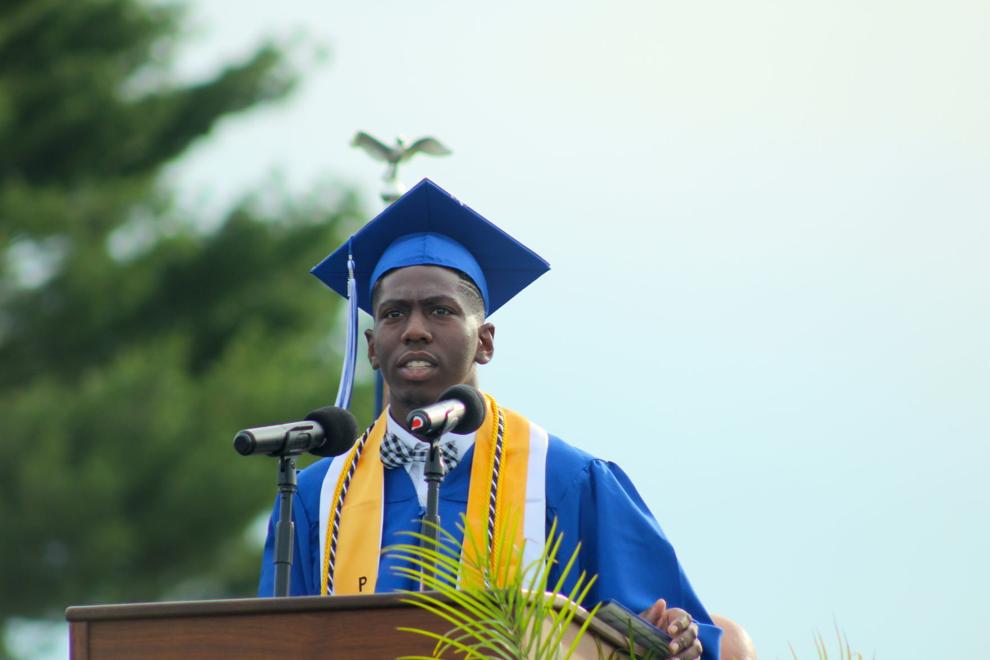 Out of all of the things that the graduates learned this year, Carroll found one to be universal: realizing what truly matters in life and how to carry themselves in the years to come, he said.
"We can change the world, rise and make it ours," Carroll said. "After spending the last four years of my life with all of you, I know our world is in good hands."
In the fall, Carroll plans to attend Widener University in Pennsylvania and is committed to the university's football team.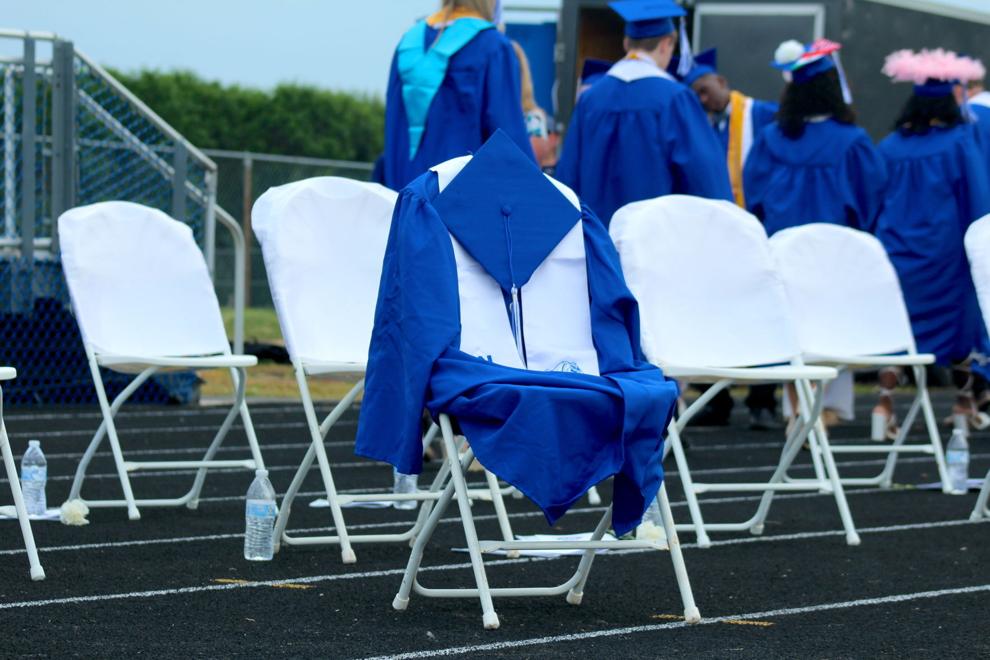 During the ceremony, students also honored Daniel Escalante, a North Caroline High School student who died in a car crash in 2019. They placed an empty chair with a cap and gown near the stage, taking a moment to remember Escalante, who would have graduated this year.
Over their four years, North Caroline's seniors achieved many academic successes, with two students taking valedictorian honors at graduation: Jessica Leaf and Ethan Lister. A significant number of the class also received Maryland Scholar distinction from taking more advanced coursework.
Additionally, 27% of students are attending four-year universities, 31% are attending two-year universities, 3% are going into the military and 39% are entering the workforce.
For Leaf, her favorite moment of high school happened at her commencement: walking across the stage and being done. The tough part was getting to that point. A devoted student, an actress in the drama club and a member of the National Honor Society, Leaf said the hardest part was balancing school and life.
In her speech, which Leaf kept "short and sweet like me," she expressed pride toward her classmates for graduating, despite finishing their education in a pandemic. She also thanked parents, teachers and staff for their support over the years.
"We haven't been easy to deal with, but here's to a bright future for us all," she said.
Leaf is attending Drew University in the fall and plans on studying anthropology and French with minors in Arabic and archaeology.
For Lister, getting through the first week of freshman year was the toughest part of high school, he said. He came into North Caroline from a small private school, so being surrounded by so many new people was an adjustment.
Luckily, he settled into the school, joining the baseball and wrestling teams. Looking back, if there was one thing he could tell his freshman year self, it would be to stay more focused and not get distracted with other things, he said, grinning.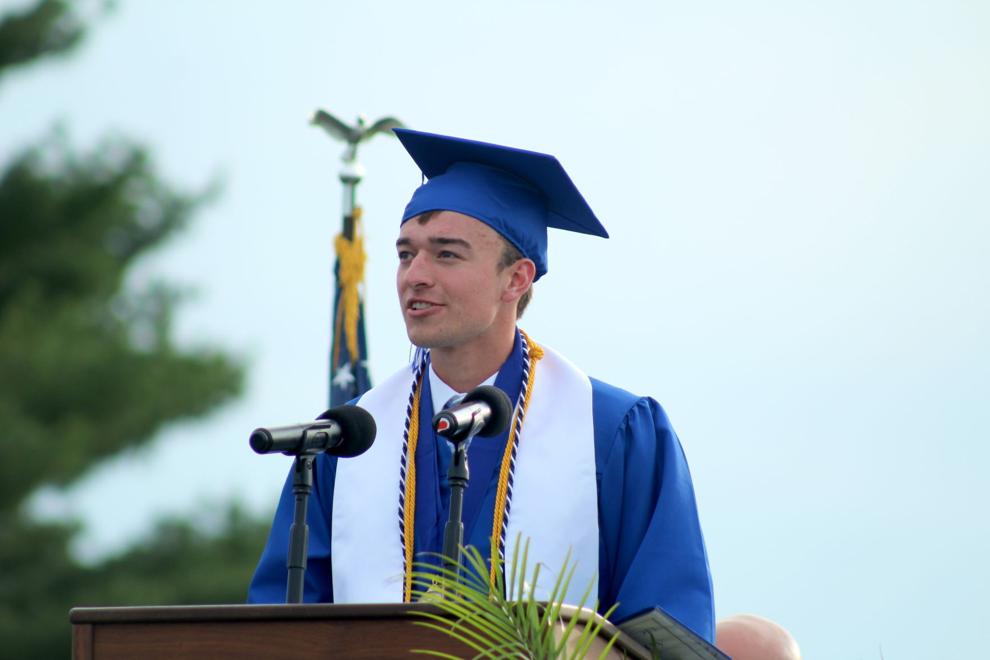 Speaking to his classmates, Lister gave several pieces of advice for the future: be strong enough to say no, be brave enough to say "I don't know," don't let anyone make you feel guilty for wanting to be a better person, separate yourself from toxicity, and give everything you've got.
"By valuing yourself and not being afraid to say no (when) presented with something you're not comfortable with, it will help make the world a little softer, and you are more likely to succeed," he said.
Lister is planning on attending the Merchant Marine Academy in the fall to study marine security and logistics.
Some North Caroline seniors also chose to personalize their graduation outfits by customizing their caps, wrapping themselves in flags or wearing standout shoes.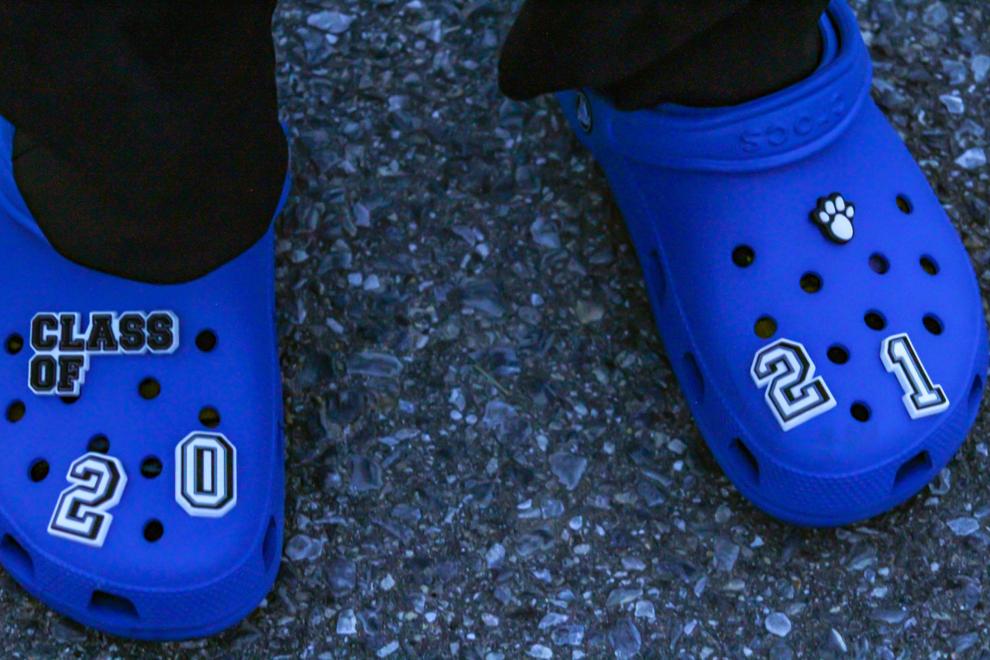 Izzy Gorman chose comfort in her graduation outfit: wearing school-color blue Crocs decorated with a paw print and her graduation year. Now a graduate, Gorman intends to go right back into the classroom, hoping to work as a kindergarten para educator at Greensboro Elementary.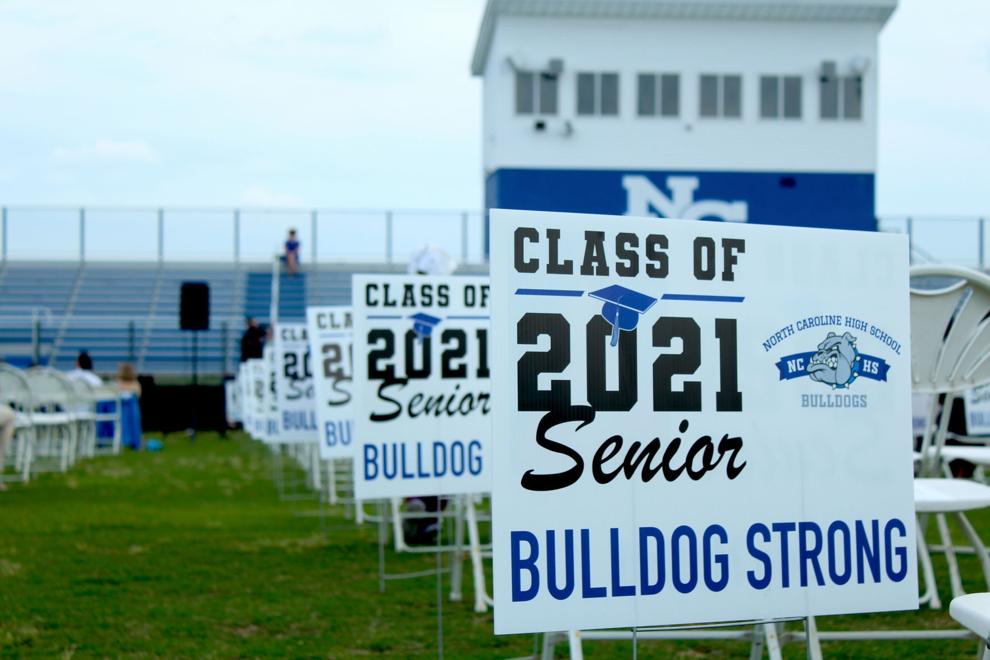 Wearing a cape of the American flag and the Mexican flag put together by his mom, Aldo Roblero's outfit added a unique touch to the typical graduation photos. With flags flying, he ran up onto the stage to receive his diplomas. After graduation, his aunt gave him an accessory to top it off: a medal made of blue and white paper and dollar bills folded up in flower shapes.
Post-graduation, Roblero is thinking about attending Chesapeake College for the next two years to save money, then transferring to a different school to finish studies in business and accounting.
Reflecting on his time in high school, Roblero had one thing he'd want to say to his freshman year self.
"Any obstacle that you have, accomplish it; go to bigger and better things in the future."