EASTON — For the past decade, local fisherman Chuck Wilkerson mostly caught northern snakeheads — an invasive species of fish originally from Asia but now spreading aggressively on the East coast — in rivers across the Eastern Shore, such as the Choptank, the Tred Avon or the Miles River.
Today, Wilkerson simply has to travel a few minutes from his house in Cordova to a local pond in Easton to catch snakeheads that are 27 inches or longer. His son has snagged the large, dark brown fish multiple times at the town pond off Bay Street.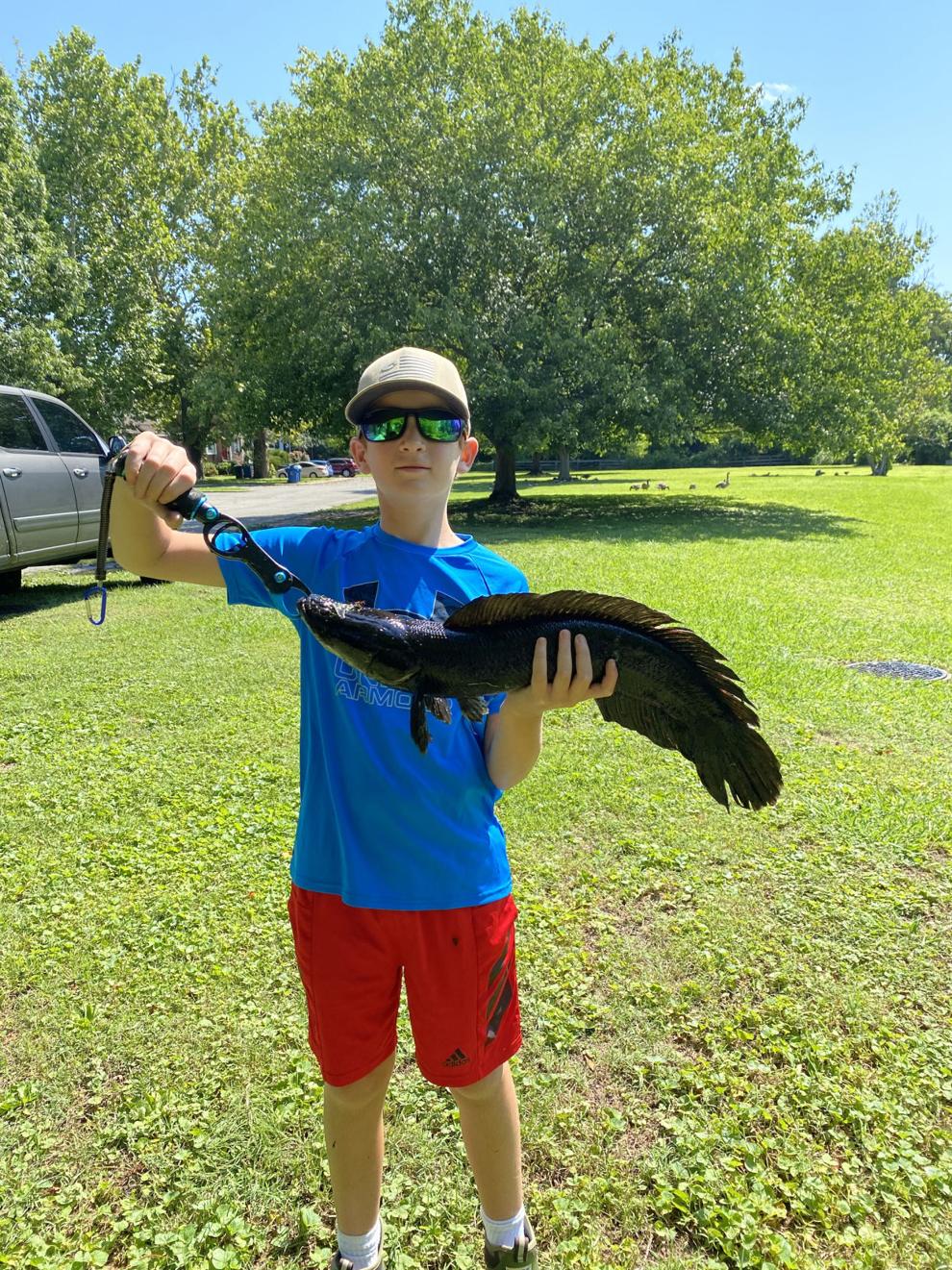 "I was like, 'Wow, they're really here,'" said Wilkerson, a longtime fisherman who follows the snakehead invasion in Maryland closely. "We used to chase them all over Blackwater River, but we live around here. Instead of driving all the way down (to Dorchester), they're right here."
Wilkerson said the fish are fun to catch: they thrash around on the hook and are engaging, big pulls in the water. Snakeheads, which are scaly with long fins, and usually seen with spotted, black marks on their skin, are also long and resemble eels. They can reach up to 47 inches and weigh 15 pounds.
But Wilkerson understands the invasive species is endangering local ecosystems across the Eastern Shore, and he wants to help harvest the population. Snakeheads eat small fish like white perch and bluegill, can spread newfound diseases and often outcompete native fish like largemouth bass in the food chain.
So Wilkerson was particularly relieved when his son caught a large snakehead in the Bay Street pond. It was a female, pregnant with eggs.
"I'm like, 'You saved that pond.' I caught one on the Miles River, same thing," Wilkerson added. "I have no doubt they're wiping out some of the fish ...They'll dominate the small population of bass and everything."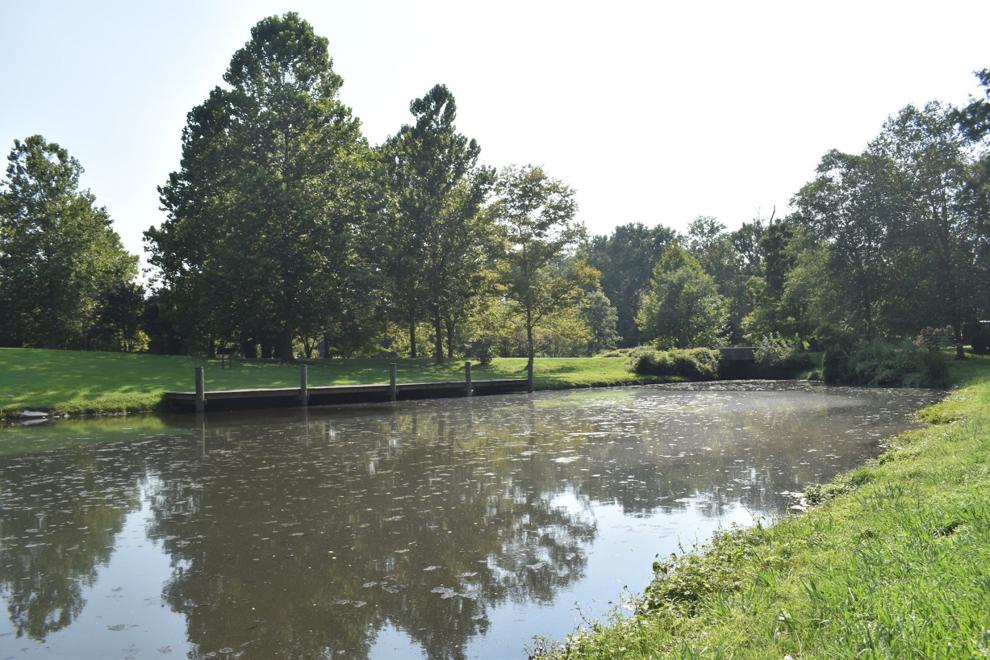 Since they were first introduced in Maryland almost 20 years ago, snakeheads have thrived in the state — but especially on the Eastern Shore, where the marshy rivers, low elevation and large network of waterways afford them a perfect home. According to the Department of Natural Resources, the population of snakeheads in the state have soared in the past six years, when the state first started collecting data.
From 2004 to 2016, snakeheads went from inhabiting a couple watersheds to nearly 40 in the state, invading 2.7 watershed areas per year on average.
While the fish can be found nearly anywhere in the state besides western Maryland, populations are still small in many watersheds. Snakeheads could completely colonize and dominate the rest of the Chesapeake Bay watershed within 52 years.
They have already made substantial progress. In the upper Chesapeake Bay, roughly five snakeheads were caught every hour in 2015. In 2020, that number was 40.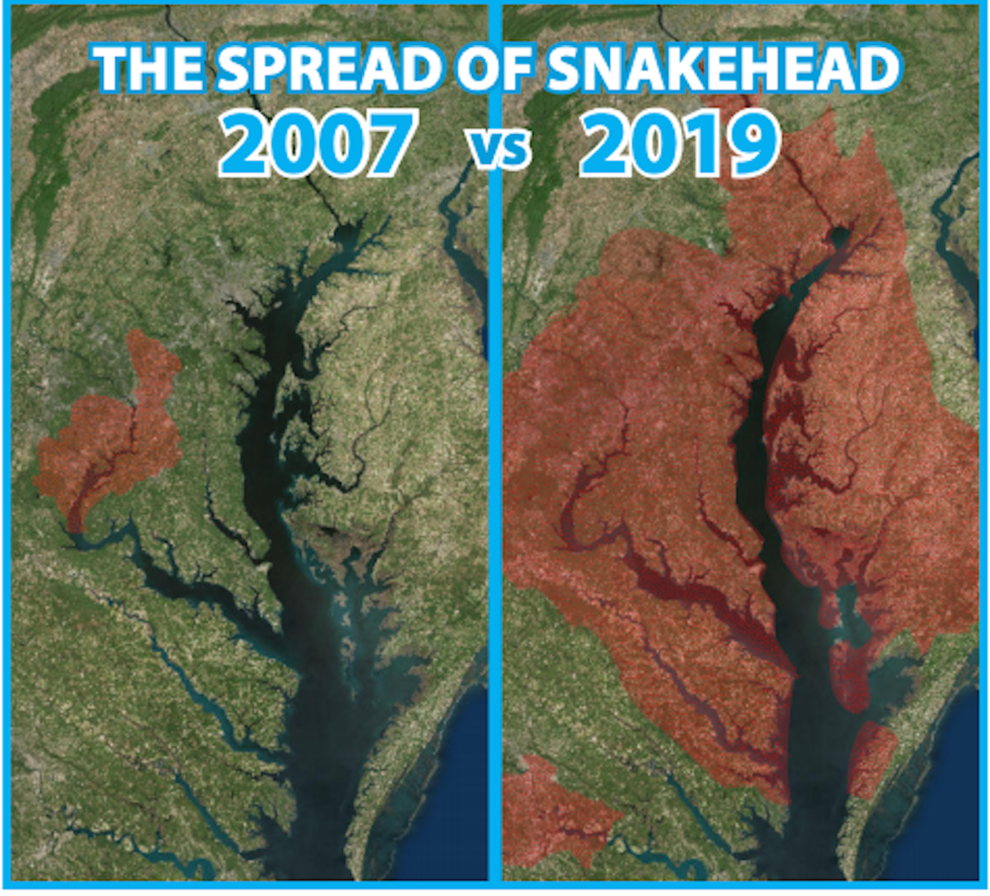 On the Wicomico River, snakehead catches per hour climbed to seven catches in 2015 and have stayed around that number. But average annual catches have inched as high as 20 per hour in the watershed.
The data is still relatively sparse, as it's hard to estimate the population of a species that was first introduced to local ecosystems less than two decades ago. The fish can also lay up to 100,000 eggs and spawn multiple times a year.
But the population increase across Maryland and the Shore has alarmed DNR, which is pushing harder and harder to get more fishermen to harvest the population.
Joe Love, the program manager for freshwater fisheries program for DNR's fishing and boating services, said "snakeheads have become more of a problem" on The Shore, and the state will no longer be able to eradicate the population. It can now only mitigate potential damages to local ecosystems.
"Snakeheads have become established on the Eastern Shore. Based on all the conversations I had with other scientists, the species is not likely to be eradicated from Maryland. It's probably too late," he said.
Love said some areas will be impacted more than others, but he doesn't expect the snakehead's primary prey, species like white perch, to be completely eliminated. Still, DNR will not be able to determine what the extent of the damage is to ecosystems for at least another 20 or 30 years — because it takes time for ecosystems to change.
But snakeheads have already reorganized local ecosystems, Love said.
"Once they become established, they already change the ecosystem," he said. "They're already changing trophic dynamics of that ecosystem, and already changed the food web because now you have a new predator in the ecosystem.'
Northern Snakeheads are from Asia, found in rivers around China, eastern Russia and Korea. They are natives of the Yangtze River basin in China. But the fish were first found in Silverwood Lake in California in 1977, likely by accidental human introduction.
A small snakehead population was found in Crofton, Maryland, in 2002. Concerned biologists and state workers eliminated the population, but the damage had already been done. The fish were found in the Potomac River in 2004, and have since spread across the country, including Arkansas — but mostly along the East Coast and especially the mid-Atlantic region.
The fish found their way to the Eastern Shore around 2010, once they popped into Philadelphia, Pennsylvania, said Love, who explained it was subsequently "introduced to Delaware and spread from there."
Snakeheads traveled into "the Nanticoke, then moved to Wicomico and Blackwater, and then it got into the Choptank, Chester and Sassafras rivers," the DNR official said. "Prior to them being introduced into Delaware, we knew if they ever got onto Eastern Shore it would be a rapid spread. One of the reasons: it is all very low elevation, a lot of canals, connecting waterways. The habitat is exceptional marsh area for snakeheads, and that is the native habitat they like."
In the early stages, most invasive fish species can be defeated with chemicals such as Rotenone, which killed the snakeheads in Crofton; electrofishing, by shocking heavily populated areas with electricity; or by draining the water, which state officials did at a pond in Wheaton when they pumped out the water.
But those methods can't be used to eradicate a large population that has now spread far and wide.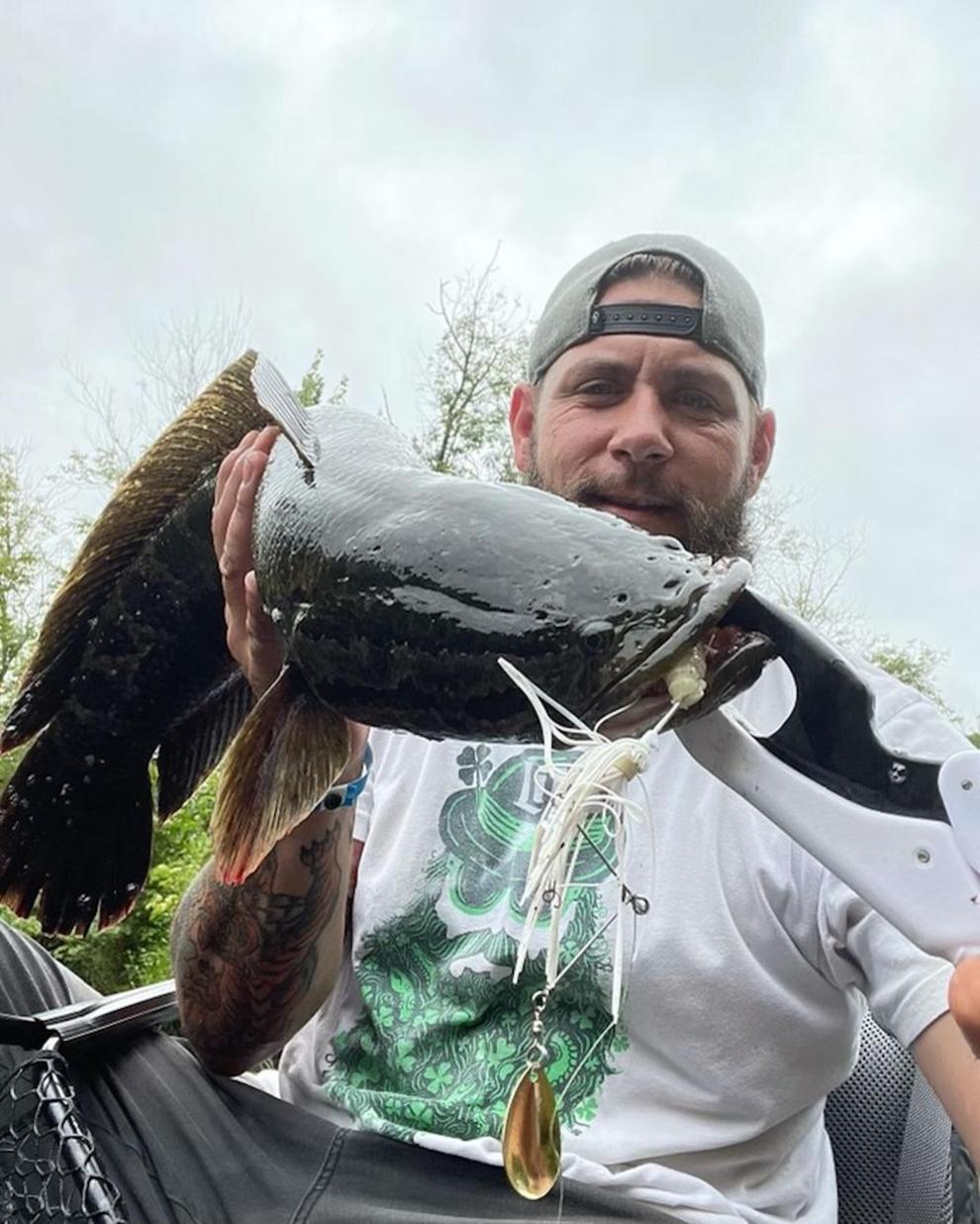 The most effective option now, according to the intergovernmental organization Aquatic Nuisance Species Task Force, is to encourage harvests in the commercial and recreational fishing industry. That can be an effective means of population control, considering many northeastern aquatic life have been over harvested before, the organization said.
Rob Newberry, the chairman of Delmarva Fisheries Association, which represents watermen across the state, said many fishermen are already targeting snakeheads and other invasive species like blue catfish because they can endanger the ecosystems the watermen rely on.
"A snakehead is like a blue catfish — it will eat anything and everything, including its own. Muskrats, birds, fish, turtles, anything swimming in front of it. They are voracious feeders and breed multiple times a year," said Newberry.
But while watermen can "sell the daylights" out of snakeheads because most people find them to be extremely tasty, a recurring problem for the commercial fishing industry is a low market price, added Newberry.
The chairman compared it again to blue catfish, which sell for about $4 a pound. Snakeheads are estimated to sell around $5 a pound, although reports vary, while rockfish and other fish can sell well above that price.
"It's not worth the price. It's so low," Newberry said. "They need to change the name. No one wants to eat anything with the name snakehead. Call it Asian trout."
The U.S. Fish and Wildlife Service, along with DNR, are also heavily encouraging recreational fishers to catch and kill snakeheads.
Officials slap reward tags on snakeheads to track their movement. Fishermen who catch snakeheads are encouraged to call the number on the tag and report the location of the catch. Depending on the catch, fishermen can win up to $200 in reward money.
The state encourages all fishers to kill snakeheads, but it's not illegal to practice catch and release. It's against the law, however, to transport a live snakehead in a cooler or by other means.
In recent years, officials have pivoted to improving education about snakeheads. DNR is placing 50 educational signs across the state this year, mostly along the Chesapeake Bay and on the Eastern Shore, to inform the public about snakeheads and how to handle them once caught.
DNR, local organizations and concerned fishermen in Maryland are also moving to hold more snakehead-specific fishing tournaments. Some tournaments have historically led to a harvest of more than 200 snakeheads.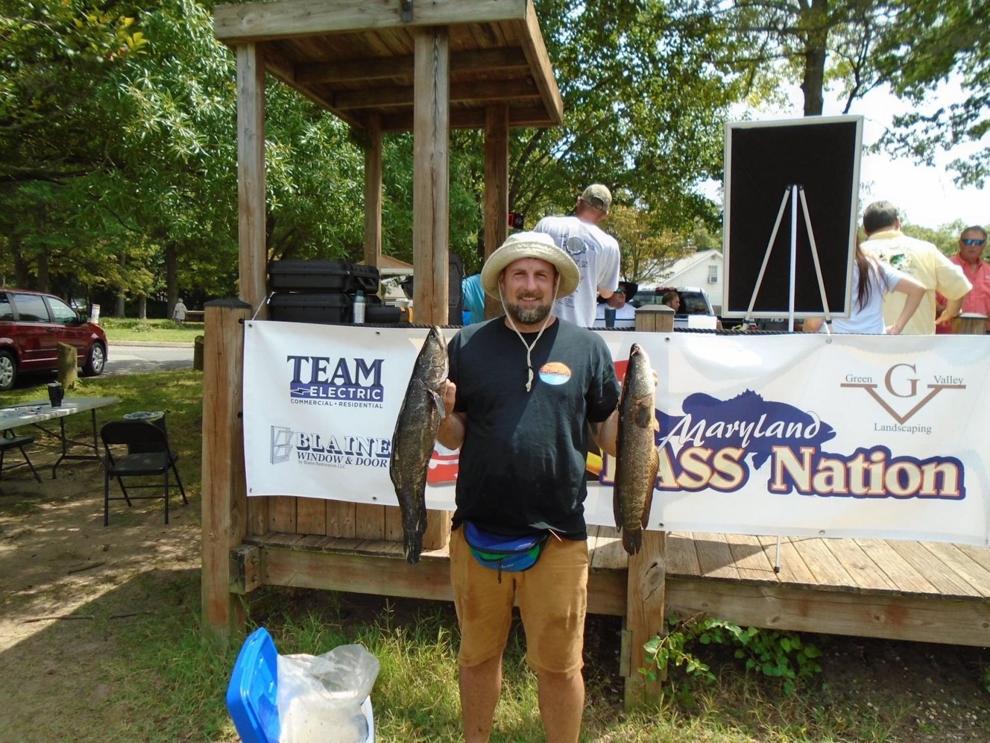 Jesse Goodroe attended a snakehead fishing tournament this year, hosted by Middle River Bass Anglrers, and caught dozens of the fish. Goodroe himself came in third place at the tournament.
The fisherman also just launched his own business, Good Lines Lure Company, with his partner, Steve Lines. They formed the company after realizing the market targeting the invasive fish species is small, even in Maryland and The Shore, where snakeheads are abundant.
Good Lines sells lures for $7 apiece, with a variety available on their website and at some bait and tackle shops. The lures have been successful, according to Goodroe, and he has sold about $2,000 worth of product since opening his business in the spring.
"These lures have a lot of action and increased strength. We decreased the hook size because snakeheads' mouths are smaller than other fish and full of razor sharp teeth," Goodroe explained. "They're pretty intense fish. Catching them is the first task (and) when you get them in the boat, they do this thing — the snakehead freak out — and it's so strong, if you're not ready for it, they end up back in the water every time."
Goodroe said that with his lures, "most people who have never caught a snakehead catch these massive" fish within 30 minutes.
Goodroe is a common snakehead fisher, and he has seen the fish grow in abundance at an alarming rate in the past few years, particularly in Talbot County. He has found them in every watershed but most often in the Miles River, Peachblossom Creek and Bolingbroke Creek.
After witnessing the growing population, he knew he should step up to establish his company because there's a lack of businesses targeting snakeheads.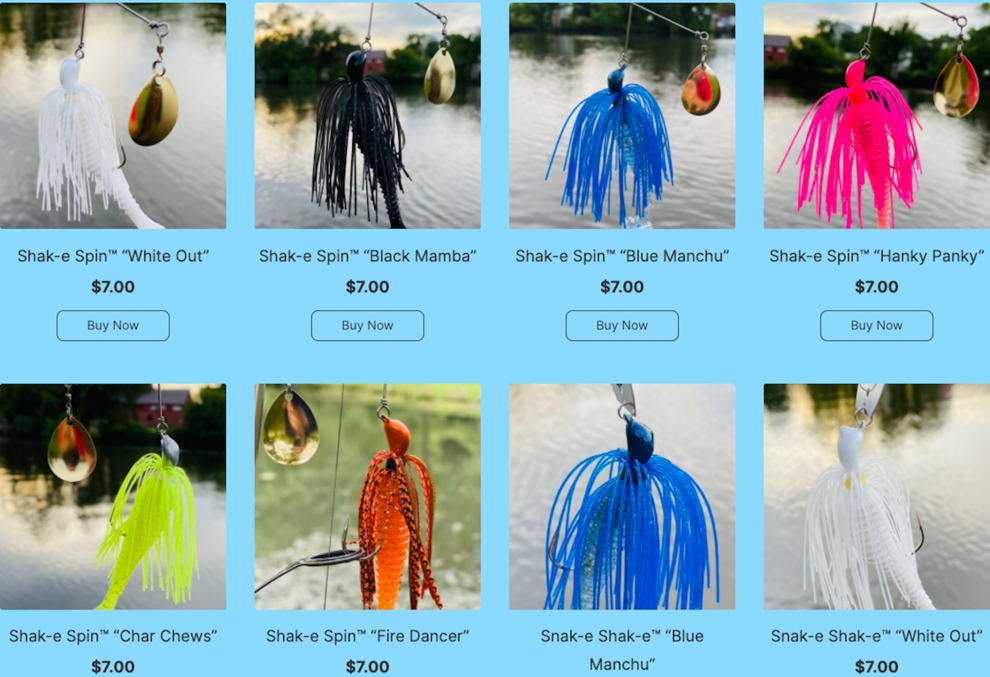 "I started the company because there are just one or two companies that are targeting these things," he said, while other fish like "largemouth bass have (multiple) companies that target them."
Goodroe is is predicting a "booming industry" in the near future, but he also wants to save the local species that the snakeheads prey on.
"I love fishing for (snakeheads) so much, but I also want to save the population," he added. "Smaller rockfish, white perch, yellow perch, are vital to our ecosystem."
While DNR has not collected extensive data on the snakeheads' impact on local ecosystems and aquatic wildlife because the real consequences of a new predator will unfold over the next couple of decades, other studies have shown the invasive species has crippled some fish species.
Snakeheads are thought to have one the highest population rates in the U.S. in the Blackwater River, in Dorchester County. The U.S. Department of the Interior, the U.S. Fish and Wildlife Service and DNR analyzed fish populations in the Blackwater River from 2006 to 2007, which was pre-snakehead, and then again in 2018 and 2019, post-snakehead, to compare population sizes and estimate the impact.
The study found that pre-snakehead, white perch, bluegill, black crappie, brown bullhead and pumpkinseed — all smaller fish species — were the most abundant in the river. Post-snakehead, the most abundant were larger fish, like common carp and gizzard shad, with white perch still abundant but less so than before.
Meanwhile, snakeheads continue to grow at an exponential rate up and down the Shore.
At the Conowingo Dam, in Cecil County, Wilkerson, the Cordova fisherman, read reports about the spread of the invasive species there since being first introduced in 2017. Fishermen caught 81 of the large fish in 2019.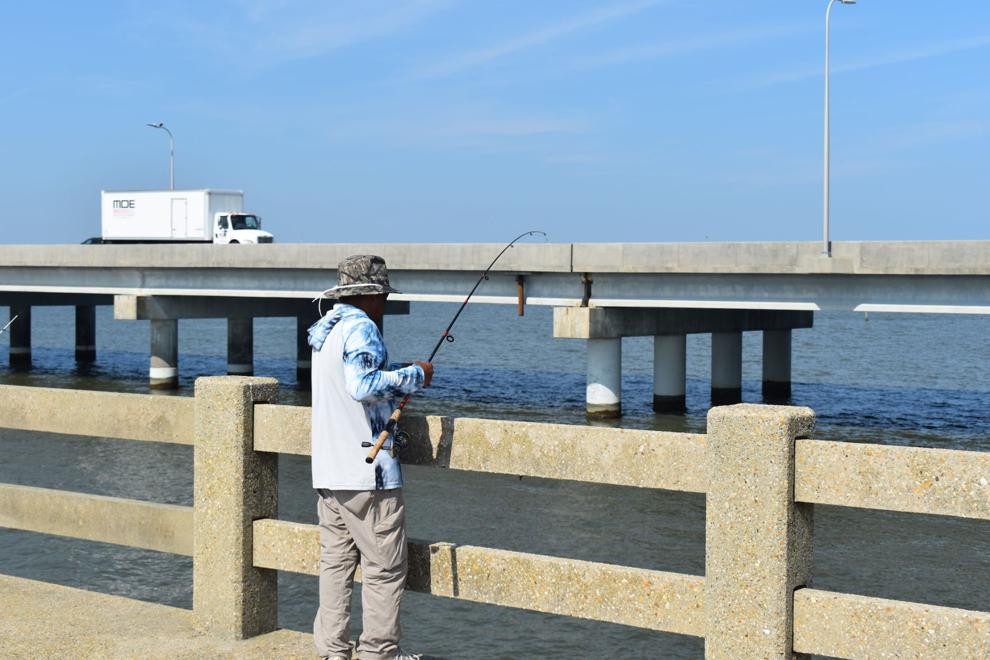 Wilkerson has also followed a local Facebook angler page, where fishers often post about the abundance of snakeheads on the Eastern Shore. Users were posting videos of snakeheads near the dam, uploading tons of videos of the fish they had caught.
"I went there about a week later and that entire bank was guys fishing," he said. "I never tried to to fish for them in my lifetime — until I moved over here."