CAMBRIDGE — Local pharmaceutical distributor Safe Chain Solutions and co-founders Charles and Patrick Boyd are three of the main subjects in the center of a massive federal complaint accusing dozens of other distributors, suppliers and pharmacies of being involved with an elaborate counterfeit HIV drug scheme.
Safe Chain and the Boyds, who are brothers, are accused of selling authentic-looking bottles of HIV medication to distributors and pharmacies across the country, according to an unsealed federal complaint filed in October 2021 by attorneys for Gilead Sciences Inc., a biopharmaceutical company that develops and markets a variety of life-saving medications, including drugs that treat or prevent HIV.
Gilead filed the original federal complaint against Safe Chain and the Boyd brothers on July 22, 2021, and filed two amended complaints on Aug. 19, 2021 and Oct. 14, 2021.
According to their company website, Safe Chain Solutions is a full-service wholesale pharmaceutical distributor founded by Charles and Patrick Boyd in 2011. Safe Chain's vision is to "operate with integrity" through their core values, which include honesty, humility, gratitude, professionalism, positive attitudes, grit, responsibility, teamwork, moral courage and enjoyment.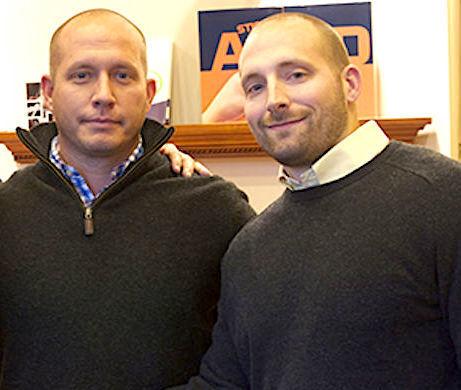 The two main drugs manufactured by Gilead to treat or prevent HIV are Biktarvy and Descovy. Both drugs are alleged to have been counterfeited and distributed to pharmacies across the country.
Biktarvy is a once-a-day prescription medication used to treat HIV. When taken daily as prescribed, it can lower the amount of virus in a patient's blood to undetectable levels, according to the complaint.
Descovy is a tablet manufactured by Gilead for pre-exposure prophylaxis (PrEP), which is a preventative method against HIV. HIV-negative individuals who are at risk for HIV infection can proactively take the medication on an ongoing basis to decrease the risk of contracting HIV through sex.
The bottles reportedly contained completely different drugs not used to treat HIV. Shipments of the bottles came with falsified pedigrees, or documentation that claimed to trace the drugs back to an authentic source.
According to the federal complaint, Gilead's investigation and outside laboratory testing revealed that the bottles had been tampered with, contained different drugs and were sold with counterfeit pedigrees.
The falsified documentation associated with the bottles distributed by Safe Chain claimed to trace the drugs back to an authentic source, but a counterfeit pedigree makes it nearly impossible to verify where a bottle's products came from, how they were handled and stored, and what pills are in the bottles.
Safe Chain's counterfeits appeared to use authentic Gilead bottles that previously contained Gilead medication. The complaint stated that the original foil on the bottles had been stripped away so that someone could remove the authentic medication and replace it with foreign medication. A replica of the bottle's tamper-evident seal was used to re-seal the bottle, but traces of the original seal remained in the grooves of the counterfeit bottles.
Lab testing also revealed that the most common contents of the counterfeit bottles was quetiapine fumarate, a non-Gilead medication also known by the brand name Seroquel XR.
Quetiapine is a prescription antipsychotic medication used to treat schizophrenia, bipolar disorder and major depressive disorder. It's common for the drug to cause a strong state of sedation or drowsiness, especially for first-time users, and users are warned against driving or operating machinery.
According to the Seroquel XR brand website, dosing can start around 50 milligrams for new users, elderly patients and patients with impaired liver function, and can be titrated up to gradually increase the dose. A starting dose of 300 milligrams is only recommended for those suffering from schizophrenia or acute bipolar mania episodes.
Some of the counterfeit Gilead HIV medication bottles contained 300-milligram quetiapine tablets.
One patient who unknowingly took Seroquel XR after receiving a counterfeit bottle of Biktarvy reported that they could not speak or walk afterward, according to the complaint.
If HIV-positive patients who are prescribed daily medication skip doses, the patient is at risk for the amount of HIV in their blood increasing. Over time, those patients' immune systems can be weakened and they risk transmitting the virus to their sexual partners. For individuals at risk of HIV infection who take PrEP medications like Descovy, skipping doses would lead to the individuals' risk of contracting HIV increasing.
The Boyd brothers and Safe Chain are also accused of continuing to sell the counterfeit bottles to distributors and pharmacies after repeatedly being informed that they were selling counterfeits, according to the federal complaint.
In the complaint, attorneys for Gilead stated that while Safe Chain may appear to be a legitimate pharmaceutical distributor, the reality is that "Safe Chain is a willful trafficker of counterfeit HIV and other medications, and has knowingly put an untold number of patients' health and lives at risk in order to make an illicit profit."
Gilead stated that in the months leading up to the filing of the complaint, they had received many reports of counterfeit Gilead HIV medications from pharmacies and customers, all of which Safe Chain had sold to the dispensing pharmacy.
In August 2020, a California pharmacy notified Gilead and Safe Chain about a patient returning a bottle of Biktarvy that contained foreign medication, which was purchased from Safe Chain. In September 2020, Gilead asked Safe Chain to identify who had supplied them with the counterfeit medication, but Safe Chain reportedly refused to do so.
In October 2020, Safe Chain received a report of counterfeit Biktarvy from a Maryland pharmacy. The bottle was filled with 300-milligram tablets of Seroquel XR. In February 2021, a patient reported another counterfeit of Biktarvy.
Gilead then interviewed the Maryland pharmacy, who told Gilead that they had reported the October counterfeit to Safe Chain and returned the bottle to them, but heard nothing in response.
Gilead alleged that between August 2020 and February 2021, they had asked Safe Chain at least five times to produce the pedigree for the counterfeit medication sold to the California pharmacy, but Safe Chain refused or ignored Gilead's requests.
According to the Drug Supply Chain Security Act, every sale or transfer of a prescription drug must be accompanied by a pedigree.
The counterfeit bottles of Biktarvy were sold to Safe Chain from Gentek LLC, a Connecticut-based supplier also implicated in the lawsuit.
In the complaint, Gilead also explained that it sells medications to authorized distributors at a wholesale acquisition cost (WAC). However, Gilead alleged that Safe Chain purchased and sold the supposed Gilead medication from counterfeit suppliers at prices below the WAC. The drugs "somehow became less expensive after Gilead sold them and passed them through to multiple distributors," according to the complaint.
The U.S. District Court for the Eastern District of New York issued an ex parte order permitting seizures at Safe Chain's headquarters in Cambridge on July 23, 2021, where over 1,000 bottles of purported Gilead medications were recovered.
As of October 2021, Gilead was still reviewing the seized products and documentation, but had confirmed counterfeit bottles of Biktarvy and Descovy, among several other non-HIV Gilead medications.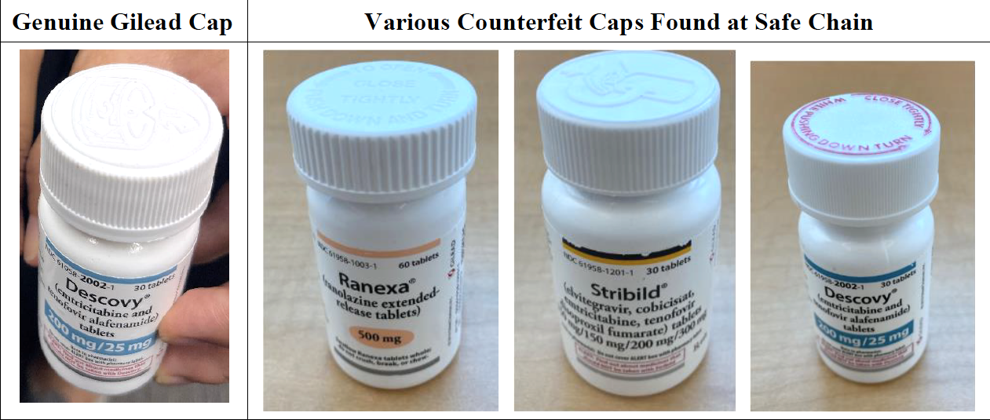 In the complaint, Gilead also stated that a "large number" of the seized medications were missing the FDA-mandated instructions for use, which are attached to every authentic bottle.
Other bottles showed signs that the instructions for use had been re-glued to the bottles, and some were the wrong instructions. Some instructions for use were counterfeits, identified by spelling errors.
Further investigation by Gilead revealed that dozens of individuals and entities were involved in marketing and selling the counterfeit Gilead-branded medications, and Safe Chain was implicated with multiple other suppliers named in the complaint.
In the complaint, attorneys for Gilead also asserted that most, if not all, of the counterfeit Gilead-branded medications sold in the U.S. originate from an organized counterfeiting ring. Most proceeds from the counterfeiting ring are alleged to have been transferred to shell entities, which use the proceeds to purchase "enormous quantities of gold bullion, jewelry, luxury items and other goods that are difficult to trace and can be easily converted to cash."
According to federal court documents, Safe Chain and the Boyd brothers are represented by 10 individual attorneys from three different law firms.
Jason Silberberg, an attorney from Frier Levitt, a New Jersey-based boutique healthcare law firm with multiple attorneys listed as counsel in the case, filed a request for the court to refer the case to immediate mediation on Jan. 10.
In the letter, Silberberg stated that Gilead has "engaged in a pattern of aggressive and abusive litigation tactics that has put Safe Chain Defendants on the cusp of financial ruin well before they even have an opportunity to meaningfully respond to Gilead's unfounded allegations."
Silberberg also asserted that Gilead is "forcing Safe Chain to incur extensive legal fees and expenses with the knowledge that it has the muscle to grind Safe Chain to dust."
A document filed by Kelly Currie, an attorney from Crowell & Moring LLP representing the company and its executives, filed a letter to a federal judge on Jan. 27 informing the court that Safe Chain and the Boyd brothers have agreed to proceed with a settlement conference and have contacted the judge's chambers regarding scheduling.
Following a request for comment on the case from The Star Democrat, two attorneys from Frier Levitt said that they have no comment on the case at this time.
Natalie Jones is a reporter at The Star Democrat in Easton covering crime, health, education and Talbot County Council. You can reach her with questions, comments or tips at njones@chespub.com.