As Kendron Wayman starred in three sports for North Caroline High, he always had his older brother DeAndre in the back of his mind.
Despite their 13-year age difference, Kendron and DeAndre were very close growing up. They slept in the same room, and even shared a bunk bed. Rather than assert superiority over his far younger brother, DeAndre showed Kendron the ropes of life as he went through it.
As both got older, DeAndre was out in the working world before Kendron even reached high school. But the brothers maintained their close relationship. DeAndre came back home often, and always spent time with Kendron when he did.
On April 18, 2016, Kendron was sick and stuck in his room. DeAndre came home from Annapolis and hung out with him. They watched an NBA Playoff game together.
As DeAndre left to go back to Annapolis, where he worked, he told Kendron he hoped he felt better, "see ya," and "I love you."
That was the last time Kendron and DeAndre were together, and those were the last words they spoke to each other.
On April 19, 2016, Lennale Wayman (Kendron's mother) came home from work to a worrisome voicemail.
She heard there was an accident, and that she needed to come to the Annapolis Police Department.
The family drove to Annapolis that evening, and went into a back room at the police department.
An officer told them DeAndre's body was found with a gunshot wound in his chest. He passed away at age 27.
Lennale went numb. Kendron didn't want to believe it. Both have blocked the immediate aftermath of those moments out of their minds.
The family drove home to Ridgely, and it was late by the time they got home. More family was waiting for them when they got back — Kendron's aunt, uncle and cousins (Kendron's grandparents went to Annapolis).
"It was really, really hard," Lennale said of the first few days after the tragedy. "I know for me, I didn't sleep. I didn't sleep that night, I didn't sleep several nights straight, in a row. You can't believe it, but it's real."
Kendron's friends reached out to him in the wake of the tragedy to make sure he was okay. His basketball team sent a big card signed by the whole team, and some sent flowers.
JB Brown — Kendron's close friend, third cousin and high school football and basketball teammate — checked in with Kendron multiple times to make sure he was okay.
"It was just heartbreaking. I made sure Kendron was okay, talked to him, gave him his space somewhat. Let him have his alone time with the tragic passing of his brother," Brown said. "It was really sad. But after Kendron calmed down (and) got his head straight, (I) made sure he was cool, texted him, called him again. Just making sure this doesn't affect him as much. Keep his head on track."
Close friend and high school football and basketball teammate Ja'Mion Franklin didn't know Kendron that well until Kendron got to high school, but he could relate to what Kendron was going through better than most of his friends. Franklin lost his uncle when he was a freshman in high school, one year before DeAndre's passing.
Because of that experience, Franklin knew the right things to say to Kendron. He remembered what people said to him when he grieved for his uncle, and what was helpful and what wasn't.
Franklin knew that nothing he said would bring Kendron's brother back. His perspective resonated.
"I (broke) it down to him about what I felt and what I was going through when I was going through the situation. I think it really hit close to home for him," Franklin said. "But it was definitely a time where he needed to be around family and to embrace family, so I didn't really get too in-depth. I just wanted to have a heart-to-heart with him about what I went through, and how I'm there for him. A lot of people say that they're there for you, but they don't really have the same experience of a loss so dear to you."
Four years later, the case has yet to be solved. Annapolis Police investigated, but couldn't find the person who killed DeAndre. The case was moved to the department's cold cases file.
However, it was reopened in March 2020. Detectives Gerrard Williams and William Noel, who are working on the case, said APD revamped its cold case unit in February. And one of the unit's early initiatives was to solve cases from 2016, when Annapolis saw a record number of homicides.
Lennale didn't want to discuss the case beyond that for multiple reasons, but said she's glad they haven't forgotten about it.
Kendron said it's tough to carry the weight of what happened knowing the perpetrator is still out there, but knows he doesn't have a choice and has faith it will all get settled eventually.
DeAndre Wayman arrived too early, and left too soon.
It was a miracle he even made it to 27. He was born premature at seven months. When Lennale had him, he was only two pounds and one ounce.
He survived that, and grew into a person beloved by many.
DeAndre was a people person. He was often joking around and smiling. He radiated positive energy that made people want to be his friend.
He loved kids. Growing up, DeAndre envisioned getting married and having kids one day.
While he never had kids of his own, he took care of lots of people. He adored his job as an in-house counselor at Langton Green, a home for adults with developmental disabilities in Annapolis.
Lennale said that job provided an insight to DeAndre's giving side.
"With the kind of job that he did, working with people and seeing how he reacted with them, reacted with children," Lennale said. "How other people would talk and he'd smile. He always had a smile on his face.
DeAndre aspired to become a nurse. He took classes at Harris School of Business in Dover, Del. and studied to become a medical assistant, which he put to use at Langton Green.
He took classes at the same time as Lennale, which was an interesting experience for her. She was much older than DeAndre and his peers, and being in class with a son created an unusual dynamic. But she treasures those memories.
"You have your upset moments because he's cutting up with the classmates, and (there weren't) too many people that were my age in there. So they looked up at me and called me his friend, and buddies called me mom," Lennale said. "But it was fun too, because we rode back and forth together when I'd get off of work. We ride together to go over and back home. So we really spent a lot of time, had a lot of talk time then, which I was glad."
They graduated together as well. Lennale cherishes the photos of her and DeAndre in their caps and gowns.
Prior to Harris School of Business, DeAndre attended Chesapeake College for one year. But he was more interested in starting work than going to college.
Though Kendron reflects fondly on playing sports with DeAndre in the yard, Lennale said he didn't get his drive for sports from his brother. But DeAndre was always supportive of Kendron's athletic endeavors.
"He tried to get to as many games as possible to support Kendron," Lennale said. "Playing ball, practicing throwing the ball with him. They would play basketball, they'd play P-I-G a lot against each other."
DeAndre played baseball for a few years, but stopped at a young age. He played youth football for one year, and played basketball growing up as well, but neither stuck. He didn't play sports for North Caroline like Kendron did, in part because he was much smaller than Kendron, who's now 6-foot-4, 220 pounds. The family laughs about the size difference between Kendron and DeAndre on the field.
He wasn't around when Kendron started playing football at North Caroline, but DeAndre was a big reason why Kendron tried football.
"Growing up, my brother, he always told me I should play football," Kendron said. "We just kind of never committed into it, me and my mom. Just never got into it. And then we tried at the end of seventh grade to play in eighth grade, and I had to get on the limited team because I was kind of big. And then they didn't have enough people on the team, so I couldn't do it. So I just said 'Oh well.' And then when I got to high school, I just gave it a shot."
DeAndre took Kendron under his wing, showed him some good times, and taught him lessons he'll never forget. Kendron learned how to treat people, to always be straightforward with people and to not get bossed around from DeAndre.
"(I learned) just to be positive," Kendron said. "Just leave an impact on (people), like how he did. Like a positive impact (on) friends I made."
His first experience driving was with his brother. When DeAndre lived in Towson, he, one time, let Kendron drive his car back to his place. Kendron slammed the brakes and nearly threw DeAndre out of the window at one point, and the entire ride was jerky.
Another time, Kendron wanted a pair of expensive shoes that Lennale wasn't going to buy. DeAndre stepped in.
"He took me to Annapolis. We went to the mall, trying to get shoes, and they didn't have my size. So we had to end up getting them online," Kendron said. "It was just fun spending the day with him."
DeAndre left an impact on so many people he crossed paths with. His legacy spread to the point that people who never knew him praise him.
Franklin didn't know DeAndre personally, but he didn't need to. He gleaned who DeAndre was as a person from what others have told him.
"He's one of the people that developed Kendron into the person he is. So I can imagine he was a great guy as well," Franklin said. "And all the older guys that I know, the guys that really supported me and helped me realize what I could become from a young age, really spoke highly of him. And they're all guys who have now become coaches or developed their own businesses. So I know that he was a great guy."
DeAndre filled a fatherly role for Kendron. That father-esque relationship blossomed naturally, in part because of the 13-year age gap. But there's another big reason why DeAndre filled that role: Kendron's father has been out of his life for a long time.
Kendron's father didn't live with him, Lennale and DeAndre. He and Lennale weren't married, but he visited regularly when Kendron was very young.
So there wasn't a traumatic storming out or a specific time he left the family; he left every time he visited Kendron. But at a point, when Kendron was four, he just stopped visiting.
Kendron never turned it into a big deal. His father's absence never hindered his sports life. He had his brother to look up to, and other family members stepped up to be male role models in his life.
In some ways, his mother was a father figure as well.
"I had to play both," Lennale said. "It's hard, but I had to. There's no way I can be a father. But some things, I had to talk about, step up and do stuff where a male should have been talking to them about."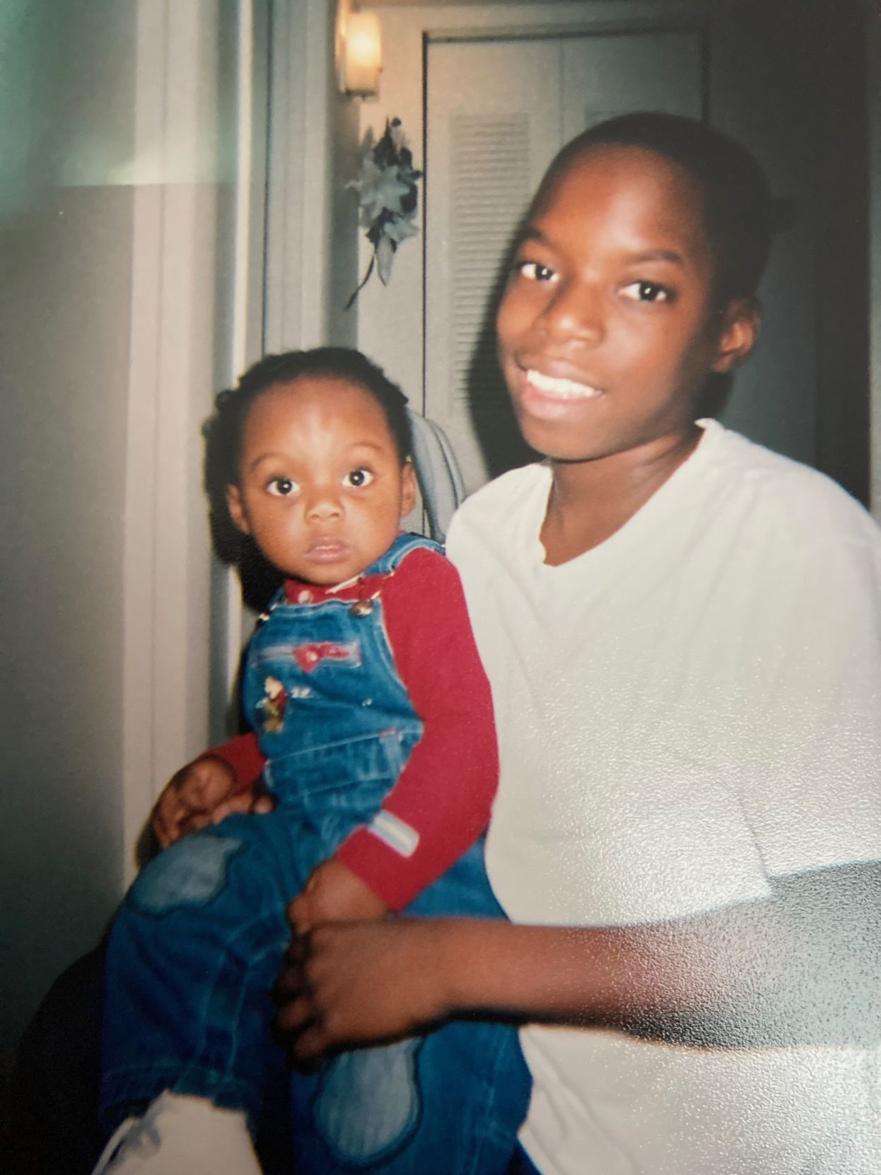 Even after Kendron's father left, Lennale would never let her kids bad-mouth him. She forbid any disrespect toward their fathers (DeAndre's father wasn't around either).
"I've taught my kids that they're still your father. So you still respect (him)," Lennale said. "I don't want to hear you say anything bad or any names or any things. I know you are angry and I understand if you're angry. But that's still your father, so I don't want to hear the disrespectful things."
It was always more important for Lennale to reinforce the positivity on her kids than anything else. She wanted to make sure they understood their fathers still loved them even though their fathers weren't in their lives. It harkens back to the values Lennale was raised on: respect, perseverance, and honesty. And she passed those values on to her children.
Lennale has worked at a local day care center for 27 years. Looking back, she finds it hard to believe she pulled off raising DeAndre and Kendron as a single mom.
There were times where the family lived paycheck to paycheck. She sometimes had to put off paying non-essential bills until the next paycheck came in.
She got assistance from the community in hard times — Lennale's parents would help when needed, and sometimes anonymous community members would pitch in what they could.
Expenses rose as Kendron grew up and improved athletically. Lennale had to find ways to pay for trips for tournaments or visiting colleges unofficially.
"For both of my kids, I sacrificed," Lennale said. "If that meant I didn't get something, something I might've needed, I sacrifice. I sacrificed buying my own self clothes to get them (clothes). See what I'm saying? It might be a bill or something that I might have pushed back to see that I had enough to get Kendron to college, and then paid it a little late. You sacrifice sometimes."
Lennale has always been protective of her children, just as her parents were with her. She wasn't thrilled when DeAndre moved to Annapolis because she was nervous about the "roughness" of the area. Many times, growing up, DeAndre and Kendron wanted to do something and Lennale wouldn't let them, wanting to ensure their well-being.
Like most children, they were upset being told no. But DeAndre grew to understand his mother's reasoning, and he explained it to Kendron.
"He would tell Kendron, 'Don't get mad. She's doing this so that you won't be out there hanging out on the streets doing the wrong stuff. I didn't understand it either, but if I had been hanging out there and stuff, then I would've been doing the same thing,'" Lennale said.
After DeAndre passed away, Lennale naturally became more protective of Kendron. She's now given him more space as he prepares for college. But Kendron also grew closer to his mom after the tragedy.
It brought the entire family closer. The Waymans were already a tight-knit family that has been long based in Ridgely. Lennale was born in the area, and she's lived in Ridgely her entire life. She likes the peacefulness of the rural town.
The family gets together to celebrate every birthday with cake and ice cream, and on August 25 — DeAndre's birthday — they visit the cemetery.
But especially in the wake of DeAndre's passing, the family spent even more time together and grew even tighter.
"I think it's (made us) even closer and spending more time (together)," Lennale said. "Cause you never know. That was one of things where ... You're trying to spend (as much) time as possible, enjoy each other."
Kendron's grandparents and aunt and uncle have significant roles in his life. They helped Lennale raise Kendron after his father left.
His coaches also became important role models.
"Kendron's grandfather is a strong, old-school man. So his dad may not have physically been there, but Kendron has always had a strong, fatherly aspect in his life," said former North Caroline track & field coach Rob Thomas, who formed a particularly good relationship with the family. "It doesn't replace a dad, but he's had that role. And when you talk about (North Caroline head football coach James McCormick), (former boys' basketball head coach Steve Perry) as well as myself, we're kind of strong-minded men that kind of push manly values on our teams."
Kendron started at North Caroline in August 2016, fresh off the tragedy.
He didn't have a background in organized football, but many knew he could play. Franklin, a defensive lineman two years ahead of Kendron and now at Notre Dame, made a concerted effort to convince him to play football. At a freshmen activities fair before school started, Franklin told Kendron of the opportunities football opened for himself and David Bailey, a running back in Franklin's class and now at Boston College, and that he could be next. Kendron said he'd give it a try and signed up.
Perry knew Kendron's grandfather and started working with Kendron immediately. One day, Perry told McCormick he had a player that had never played football but he wanted him to play for the team. He sent Kendron to the weight room.
McCormick asked Perry what the kid's name was (which he provided), and asked what he looked like.
Perry said, 'You'll know.'
Kendron walked into the weight room, and McCormick thought to himself, 'That's got to be the kid.' He walked up to him and said, "Kendron Wayman."
Kendron responded, "Yes sir."
McCormick said, "All right, I'm going to ask you one question. Are you here because you want to be here? Or are you here because coach Perry wants you to be here?"
Kendron took a few moments to ponder. He lowered his head in thought, and then looked up at McCormick and said, "I want to be here, coach."
McCormick said, "That's good enough for me, buddy. Let's go to work."
That was the beginning of an illustrious football career at North Caroline.
Starting out, McCormick and his staff knew they had an athlete with high potential, but they were unsure where to use him. They tried Kendron at several different positions. Some teammates recall him lined up at wide receiver early on. He stuck out a bit.
"He was uncoordinated, didn't really know what he was doing," said Montreyse Deshields, Kendron's football, basketball and track & field teammate and close friend in the same class.
"He did (stick out)," said Carlton Johnson, Kendron's defensive end teammate in the same class. "I was with the linemen group. And you could see him over there running routes, catching the ball, sometimes he'd drop it. But he was kind of slow for a wide receiver."
He landed at defensive end and tight end, and his potential was clear early. He set a school record for sacks in a single season on JV as a freshman, his only year playing JV.
Franklin watched Wayman's first JV game — his first-ever football game — and cringed at the beginning. He noticed Kendron's odd stance on defensive line, and immediately knew he'd have to work with the freshman to fix it. But early in the game, Kendron threw an opponent out of the way en route to a sack, and Franklin saw the high potential.
"I'm like, 'He's going to be a freak if he could just fix that goofy stance,'" Franklin said. "I definitely had an insight to help him fix his technique. So from that point on, the mentorship began. I'm like 'Dude, you could be really special, you're lengthy, you're quick and you're powerful. If you just put this together, then you're going to be a freak.'"
Kendron steadily improved from then on. He was named Bayside Conference Defensive Player of the Year as a junior and senior. During those seasons, he recorded 65 tackles, 15 sacks (13 as a senior) and many forced fumbles. He also posted 24.5 tackles for loss as a senior.
McCormick couldn't peg any one thing that makes Kendron stand out. It's the combination of everything he possesses that makes him such a good player.
"Big, fast, physical, natural ability, a nose to get to the ball," McCormick said. "We'd laugh about it, Carlton had a knack for blocking punts or stripping quarterbacks causing fumbles. And Kendron had a natural ability of always being there so when that ball hit the field, he scooped and ran for a touchdown. And I think he did that four or five times his junior year, where Carlton stripped somebody or blocked the punt and Kendron ran it in for a touchdown. He's just a natural ability kid that's always in the right place at the right time."
Opposing quarterbacks respected the way he approached the game. They could tell how hard he works just by playing against him.
They were always wary of his presence on the field.
"You always know where he is at all times I'm walking up to the line," Easton junior quarterback Ryan O'Connor said. "He's probably the first guy that you've got to point out on the defense when you're just scanning the field, walking up to the line. It's just crazy because even though you know where he is at all times, it's just almost impossible to stop him."
Johnson said competing alongside Kendron in practice motivated him.
"Knowing that you have someone that is stronger, bigger than you, you can push yourself to become him, even though you don't have that height or that strength," Johnson said. "You can push yourself to say 'I want to be just like him or be stronger than him, be faster than him,' or find different ways to be better than him. And since we're all competitive, we like to get out at each other and make ourselves be better in practices."
The difference between the Kendron that walked into the weight room as a freshman and the player heading to Wake Forest is staggering. Physically, he's added 40-50 pounds and grown three to four inches. That length is a big advantage for a pass-rusher.
The mental growth has been more significant. For a kid who didn't play organized football growing up, Kendron grew to understand the game at a high level and easily pick up on what his coaches wanted him to do.
McCormick recalled one practice when assistant coach Jody Ward was trying to demonstrate something to the team. He used Kendron in the demonstration, and Kendron played it aggressively, stiff-arming Ward and doing it exactly how the coaches wanted.
"I can remember Jody coming back to me and saying 'We've got no problems if they run that way. Kendron's not going to let anything over there,'" McCormick said. "He's one of those kids that just gets it. You can't teach that sometimes. They just understand, they've got the ability and they figure things out. He's that kid."
Kendron was not only a standout football player. He excelled in basketball and throwing discus and shot put for outdoor track as well.
While playing center in basketball, he was North Bayside Player of the Year as a senior and a second team All-North Bayside selection as a junior. He was an honorable mention as a sophomore, and he started in North Caroline's state championship game appearance that season. He topped 1,000 career points, a notable accomplishment for a big man.
He lost his senior track season because of the COVID-19 pandemic, but he made his time count. He won state titles for both events as a junior after competing on JV for two years.
In shot put, each athlete gets three attempts to throw the shot as far as they can. At the state championship meet, Kendron's first two throws in his heat were well short of his capability and his goal. He and his coaches knew he was good enough to win the title, but he was on the brink of elimination.
His coaches pulled him aside to make sure he was locked in.
"(We said) 'Look Kendron, this is your last throw, you have to have a good throw or you're not going to go to the next round to have a chance to win the state title,'" Thomas said. "And he looked at us and said 'Okay coach, I understand, I got it.' Kendron went out and threw the winning throw for his gold medal. It was down to 'I throw my last one, and I go to the next round and have a shot to win or I'm done for the year.' So that pressure was there."
Kendron, quiet but cerebral, is able to recognize when the stakes are raised, and simply flip a switch and rise to the occasion. That's true in every sport he plays. On the basketball court, whenever North Caroline needed a basket in a key moment, Kendron came through. His size was always a matchup problem for opponents, but the more he developed his skill, the fewer opponents existed that could neutralize him.
Well after Kendron committed to play football at Wake Forest in May 2019, Thomas still received inquiries from college track coaches. He has no doubt Kendron could've gone to a Division I track program if he didn't get a football scholarship. And he's encouraged Kendron to talk to his football coaches at Wake Forest to see if they'd let him compete in shot put and discus.
The common denominator between the three sports is Kendron's work ethic. Thomas admired how Kendron took to the craft of shot put and discus after, like most athletes, realizing he couldn't simply use his muscle to throw.
"It just made me see that that's why he was successful in football and basketball because if you could take something and learn it like that, you're putting in the work and you're putting in the focus to do that," Thomas said. "That's something incredible to see as a coach."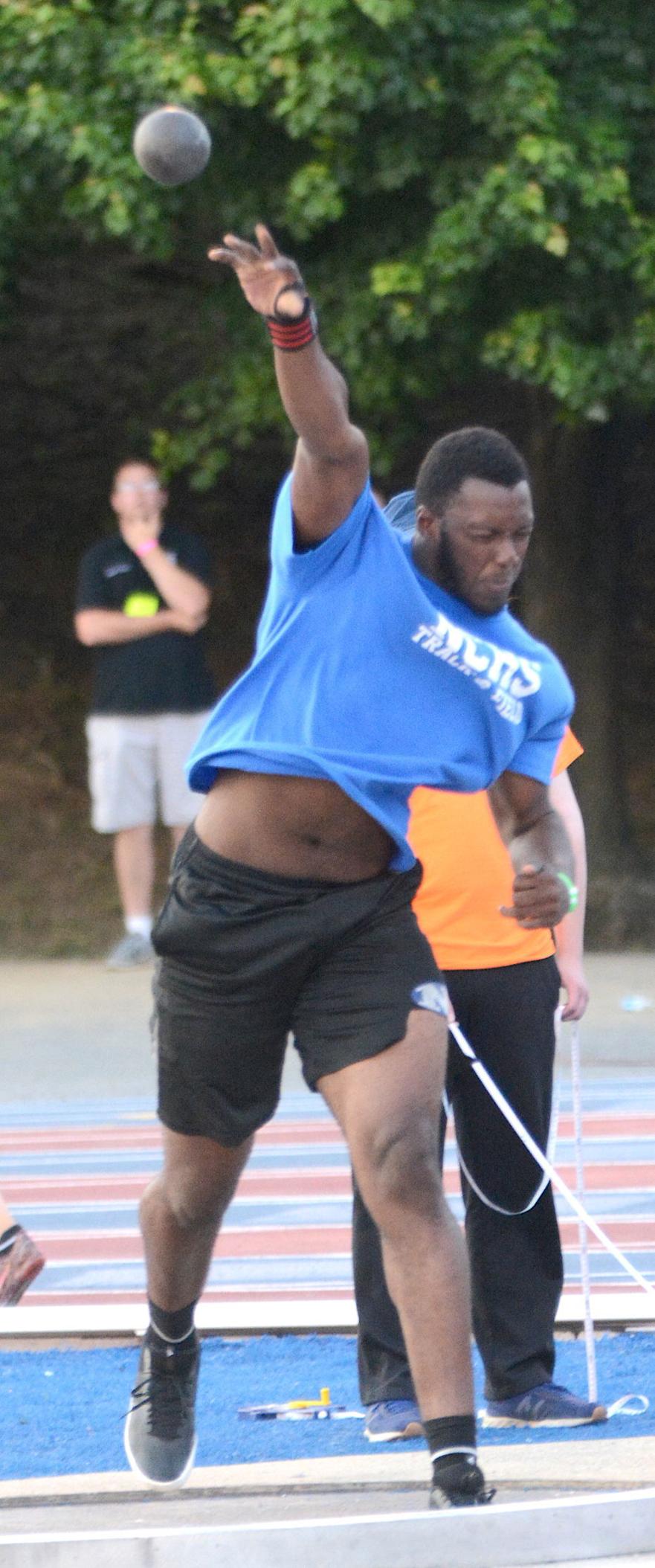 Perry echoed the sentiment.
"It was a pleasure (coaching Kendron)," Perry said. "I wish I had some more that worked as hard as he did. One thing about him, with his size, he led a lot of our drills with speed. He always kept pushing. He always tried to get better. And in four years, for basketball, he made tremendous improvement."
Franklin took Kendron along on multiple college visits before he committed to Notre Dame, and those visits further proved Kendron's commitment to growing and improving. Kendron asked people at the schools Franklin visited what he needed to do to reach the collegiate level.
McCormick said his staff never had to worry about coaching Kendron. They just knew he'd do things properly, and when he didn't and coaches had to correct him, he wouldn't make the same mistake again.
"I think his greatest asset is his work ethic," McCormick said. "He's just a grinder. He's that blue-collar, get-up-and-work type of grinder kid. When you match that with his athletic ability, you've got something special."
Wake Forest took notice of Kendron's dominance in other sports. The football coaches were particularly impressed with his basketball achievements. Assistant head coach for defense and defensive line coach Dave Cohen said winning North Bayside Player of the Year in basketball says a lot about Kendron, given his size.
Lennale and McCormick informed Cohen about what happened to DeAndre. He said he's had players come into the program having endured tough things in their past, but he's not used to events that drastic. He said it's something you have to be aware of as a coach.
"We always care about our players and look out for them," Cohen said. "Obviously, that's something that has shaped him. And we're aware of it, and we'll be there for him. He's a great kid and we look forward to working with him and being there for him."
Kendron is shy, stoic and humble. He's never one to show a lot of emotion in a game.
Franklin recalled several instances when Kendron made a big play, and his teammates were jumping around screaming, but Kendron just clapped and got ready for the next play. His teammates joked with him and gave him a hard time about it many times.
"I kind of make fun of him and call him like a Kawhi Leonard kind of guy," said Franklin, referring to the Los Angeles Clippers star. "You never know what's on his mind. But you know he's going to make a play for you, you know he's going to be there for you. And when he finally speaks up and says something, you listen, because you know he's the kind of guy that sits back, has a straight face and just takes in the entire environment. He's definitely wise beyond his age."
Kendron is more of a leader by example than a vocal leader, but his teammates have always respected him.
"Kendron's not the one that's going to go into the crowd and give the 'Ooh-ahh' speech to get everybody motivated," Thomas said. "But he's the one that's going to walk on the field or walk on the court and by his performance, he's going to show his teammates 'I'm fighting. So fight with me.'"
The reasons his teammates respect him are the same reasons his friends love him. His friends describe him as the type of person who's easy to get along with and would do anything for his friends.
"Kendron is one of those type of people that you always want to have around you," Brown said. "Say you have a negative vibe right now. You're trying to be happy 24/7. Kendron is that person you want to have around because he can get you out of that stage. He can get you motivated, he can get you happy. He can get things off your mind. He's just that type of person you always want to be around."
"I wouldn't even call him a friend. I'd call him my brother," Johnson said. "He's there, he's a caring person, and he's a beast on the field. He provides encouraging words and then even though he jokes around, he's still true."
Once Kendron started getting looks from high-major Division I programs, he and his friends started to realize it was a possibility — and later a likelihood — that he'd play sports in college.
The attention didn't change him as a person.
"He's still Kendron," Brown said. "Still humble, still a goofball. It's just when it comes down to that time to get serious and locked in, he's a different person. He's an animal."
But it did change one aspect of his mindset.
"His grind got (better)," Johnson said. "He got stronger. His grind changed, he was getting more hungry to get to where he's trying to go — and where he's going now. He's still working to this day trying to get bigger, faster and then more speed to get off that ball faster."
Kendron is not only an athlete. He excels in the classroom just as he does on the field. He's not just going to Wake Forest for football — he's planning to major in Pre-Med.
He works hard in the classroom.
"Academically, he's going to do well (at Wake Forest)," McCormick said. "It's a great school academically. Kid's got a work ethic in the classroom, he's bright, he's intelligent. He understands that this is a great opportunity for him to get a world-class education."
"Well, where should I start? We have been through so much together. I don't know where to start. You were always there for me when I just needed someone to talk to. Our conversations would be very interesting, sometimes. But once we started, we wouldn't stop. You would always play basketball with me, especially P-I-G. You would always beat me, and say that 'This is my court.' But every time you would beat me, I would get better at it. Also, whenever we would be in the house alone, you would always try to fight me — playing around. Then mom would walk in the house, and you would get in trouble. You would always say 'You could beat me up, even if I was a man-child.' (DeAndre called Kendron man-child because Kendron was so big.) Those are moments I will never forget. Also, times like when you would scare me, whether I was asleep or awake. I had a lot to say, but I don't want to put too much because Pop Pop is already joking with me about it because he has to type it. But I'm going to miss you brother, and you will always be in my heart. And I'm not worried about you because I know you are in a better place now. All those goals I had that I told you about are going to happen because I've got God on my side. I love you man and always will."
Nearly two weeks after watching basketball with his brother by his side, Kendron gathered his thoughts and emotions and read that letter to DeAndre at his funeral. That suddenness was the hardest part for Kendron. It came out of nowhere, and he had to pick himself up, fast.
He gave himself time to emotionally recover in the short-term. He missed a few weeks of school to deal with the loss.
"I was in eighth grade. It was kind of hard," Kendron said. "It was halfway through the semester. It was just kind of hard going back. I just wanted to be with family."
He waited even longer to return to sports. DeAndre passed away in the middle of Kendron's Little League baseball season, and when Kendron returned to baseball, he endured something he rarely, if ever, experienced in high school athletics: he struggled.
The loss of his brother heavily weighed on his mind on the baseball field. He struck out more, dropped balls in center field and came up short in moments he usually rose to.
He recognized his decline in play. His teammates understood what he was going through, but they noticed it too.
"Baseball is a more mental game than physical. So having that on your mind and that weighing on you, that definitely affects the way you play," said Brown, Kendron's teammate on that baseball team. "And he just started not caring. You can tell he didn't care. He didn't show any emotion. Like when good things were happening to him on the field and the bad things, all the failures on the field. You can definitely tell it was getting to him."
Kendron has always been mentally strong, but coping with the death of an older brother is an enormous burden to place on an eighth grader. He didn't know how to fight off the tragedy that lingered in his mind on the field, so he refocused his energy into school.
"When I came back (to school), I was kind of behind on some school stuff. I had to get all that caught up," Kendron said. "I was trying to get my grades back up, so I focused on that. And then after that, it was high school. And I told myself I was going to get straight A's and have good grades, and I did."
Even though he struggled, sports provided Kendron an escape from the hardship. Beyond serving as a reminder of playing sports in the yard with DeAndre growing up, playing sports allowed Kendron to take his mind off everything going on. He said once he hit the field (or court), he was able to focus on something else for a change.
Kendron's sports were a welcomed distraction for Lennale as well.
"I really think it was a big escape for him with the situation with DeAndre," Lennale said. "It was a big escape for both of us. It kept me running so I (wasn't) thinking of that all going to the games and not stopping. It kept me going as far as with him on the go and not really being able to think (about the tragedy). It kept us busy. It kept him busy."
That was Kendron's last season playing baseball. Former North Caroline head baseball coach Joe Bildstein wanted him to play when he got to high school, but he gave up baseball for track. Current head coach Mark Potter heard Kendron was good in Little League and tried to convince him to play his senior year, but Kendron declined again.
When Kendron started at North Caroline, his coaches were aware of the tragedy. Perry knew about it because of his relationship with Kendron's grandfather, and McCormick was made aware of it from someone outside the family.
McCormick took a delicate approach to talking about it with Kendron.
"The way I brought it up with Kendron was 'If you ever want to talk about it or you've got something you want to discuss. If not, I'm going to leave it to you to figure out,'" McCormick said. "He knew that myself and coach Ward, coach (Colin) Joseph were there to talk if he ever needed us. But we weren't going to push him."
As he now prepares for college, Kendron remains forever shaped by the loss of his brother.
He's talked with his close friends about his brother, but he doesn't bring it up very much.
It's just something friends and teammates know he carries with him at all times. While DeAndre's passing no longer weighs him down on the field, he's always thinking of his brother.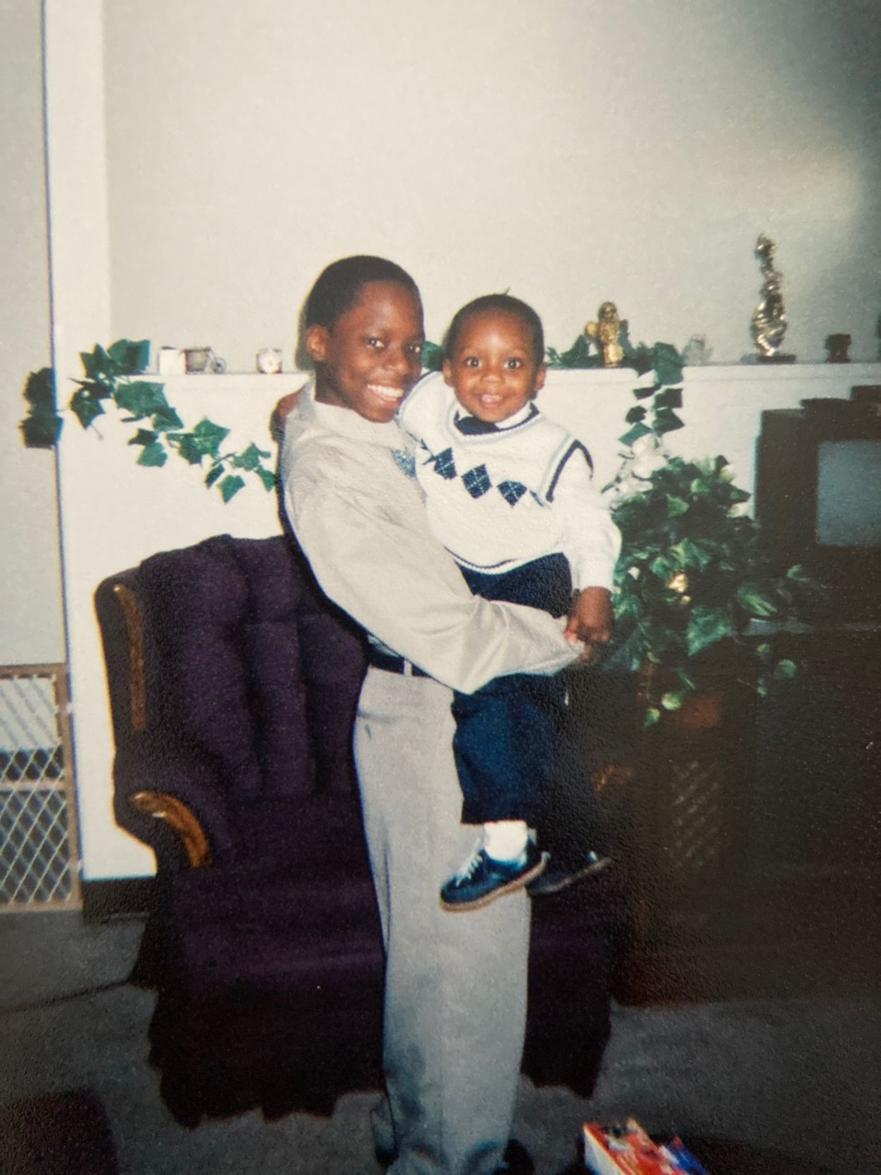 "He wears it on his sleeve," Brown said. "You will never hear him talk about it. And that's the thing that I like about him. Keep it to yourself, nobody needs to know. Just be you."
Eventually, the burden turned into motivation. Kendron always worked hard, but losing DeAndre fortified that work ethic even more. It made him more determined.
"I think it made him work harder and want to make something more of himself," Deshields said. "It wasn't just about him anymore. He had somebody he was doing it for."
"You could always see that it wasn't a goal to get the recognition for himself," Thomas said. "It was always a goal of 'I'm doing this for another reason,' which was his brother and trying to make it better for his mom. He's never been a kid that was celebrating for self-gratification. It was always 'I'm doing this for everybody.'"
Perhaps the most lasting impact of the tragedy on Kendron is his perspective on adversity. He never viewed adversity in the same light after losing his brother.
Though not often because of his talent, Kendron faced tough situations or setbacks at various points throughout his high school athletic career. The shot put state championship; suffering a broken finger during his sophomore basketball season; learning advanced football techniques without having played before. Three situations that would test any athlete's character.
But none were overly devastating for Kendron. After all, he'd gotten through losing his brother — and if he could get through that, he felt, he could get through anything.
"Nothing that he went through on the football field, the basketball court or the track was anything worse than what he had went through in life," Thomas said. "So being down or being behind on the basketball (court), he's not the person to shrug his shoulders and give up. Because of what he's went through, he's had to keep on pushing."
DeAndre's passing never changed Kendron's personality, but it impacted his character. It strengthened his resolve. It magnified the drive, passion and thoughtfulness his family, friends, peers and coaches already saw in him.
"It shaped him into one of the best human beings you can possibly meet. It shows how strong and how much of a fighter he is," Brown said. "Even through tough times, you can get through anything. You can still fulfill your dreams and accomplish any goals that you want."
"There's a lot of kids that can say they're going through adversity and they're having a bad day or this and that. I don't know if you could compare the average bad day of a kid to losing a loved one like that," McCormick said. "Obviously, that's something that you have to figure out how to deal with. When you're talking about legitimate adversity, that's it. If you can handle that, if you can learn to overcome that kind of pain, it's going to bode well for you in life."
Kendron will face the same challenges at Wake Forest that many college freshmen battle. He'll have to adapt to being away from his family, and playing football with a completely new group of athletes. He'll go from a three-sport star to another football player trying to prove he belongs. He'll have an ocean of opportunities awaiting him with far less direction for navigating them than he's used to.
As he begins this new set of life challenges, he'll have his brother in the back of his mind.
After all, if he could get through losing DeAndre, he could get through anything.