GOLDSBORO — The chills and goosebumps in Caroline County Tuesday did not come from the blowing snow and frigid temperatures with the day's arctic weather system.
They came when the Stephen Siller Tunnel to Towers Foundation presented U.S. Marine Cpl. Clark Cavalier, a double amputee, with the keys to his new home near Marydel.
Cavalier was critically injured while deployed in Afghanistan on April 23, 2011, when he stepped on an IED. He suffered the loss of both legs above the knee, and serious injures to his left arm and hand.
Nearly seven years later, Cavalier, along with his dog Josie and parents Nick and Becca by his side, received the gift of a new SMART Home through the Stephen Siller Tunnel to Towers Foundation, an organization started in memory of New York City firefighter Stephen Siller who died in the South Tower of the World Trade Center on Sept. 11, 2001.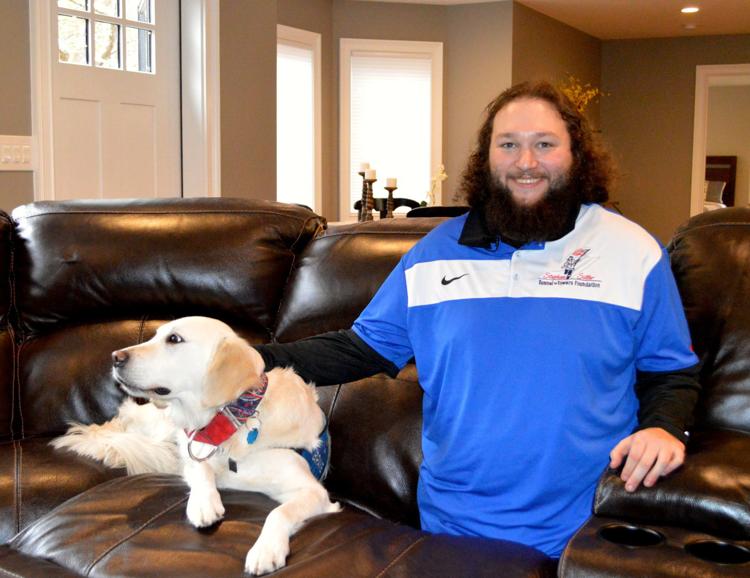 "I'm shaking because I'm so excited for this house," Cavalier said during Tuesday's ceremony at the Goldsboro Volunteer Fire Company. "I cannot put this into words. It just has not hit me yet."
From the fire house, a motorcade, comprised of Goldsboro VFC, Marydel Volunteer Fire Company and the Caroline County Sheriff's Office, escorted the Cavalier family to his new home on Marvel Road.
Cavalier entered the home with Josie for the first time, and they spent the next 10 minutes touring his new home.
"It is amazing. It is awesome," he said. "This is beautiful work done here. It all has not sunk in yet. I just need time for it to slowly hit that this is mine. I could not ask for better.
"I need to thank Tunnel the Towers because this is just incredible," he said. "There are a lot of organizations out there that are selfless and will do anything above and beyond for veterans. Steve Siller Tunnel to Towers Foundation is one of the best. They built me this amazing SMART Home that will make me live that much closer to a normal life than I was before."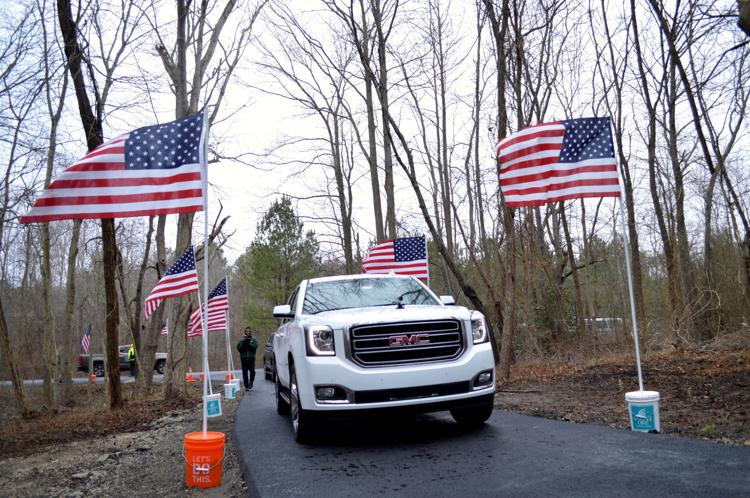 The Tunnel to Towers Foundation partnered on the project with General Motors, Home Depot, Ashley HomeStore, J.C. Penney, Masterbrand Cabinets/Omega, Semper Fi Fund, Anderson Carpet One, Hunter Douglas, Johnson and Johnson, Mohawk, Glidden, The Marcus Foundation, Esther and Harold Mertz Foundation, Oldcastle Architecture, Api Group, United Rentals, U.S. Department of Veterans Affairs, Fidelity Power Systems and UPS. The home was built by Richard T. Dadds Construction.
The house features many touchscreen activated appliances to allow Cavalier to move easier around the home while maintaining independence with everyday tasks such as cooking.
"I can do tasks but it is more challenging," he said. "But all the features in the house are adopted to me. Which makes it that much closer to normal. I'll probably just sit in the bathroom, not use it, just admire how beautiful it is."
Cavalier, originally from Louisiana, picked Caroline County because he wanted land to hunt that was far enough away from the big city.
"Caroline County looks like a good spot," he said. "I'm happy with it."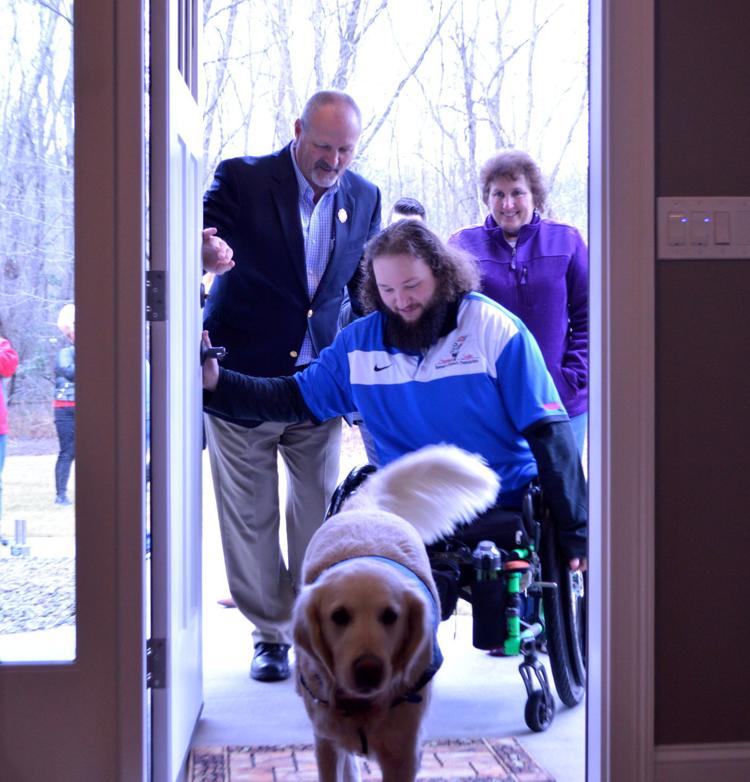 The Tunnel to Towers Foundation began in memory of New York City Firefighter Stephen Siller who died on Sept. 11, 2001. He was on his way home to play golf with his brother Frank and two other brothers George and Russ the morning of Sept. 11, 2001.
He turned his truck around and went back to his Brooklyn fire station when he heard a plane hit the World Trade Center. He grabbed his gear, but got stopped at the Brooklyn-Battery Tunnel, which was closed to vehicle traffic due to the attack.
He then ran with 60 pounds of gear through the two-mile long tunnel, to the South Tower of the World Trade Center. He later died when the South Tower collapsed. His remains have never been found.
"Stephen did just what Clark did. He decided that it was his calling to make sure that he run toward the danger and not away," Siller's brother and Tunnel to Towers CEO Frank Siller said during the ceremony at Goldsboro VFC. "It was the largest rescue mission ever in America. Over 25,000 people were saved that day. They got them out of the building.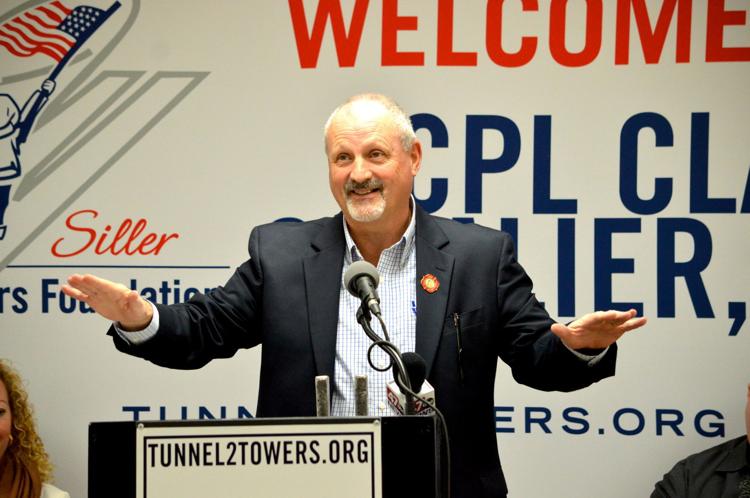 "He runs up the stairs because there were people above the fire line," he said. "The 70th floor, the 74th floor, the 80th floor where the planes flew in, there was a call for help. 'Please save me.' So he goes up the stairs. The tower comes down. He gives up his life while saving others."
The family then decided to start the Tunnel for Towers Foundation in Stephen's honor. The foundation hosts a run each year through the same Brooklyn-Battery Tunnel Stephen ran through on Sept. 11, 2001. More than 30,000 participate in the run annually, including firefighters who wear their gear during the run.
Cavalier and Sgt. Adam Keys, who owns an Annapolis home built by the foundation, have participated in the run. Keys also attended Tuesday's ceremony.
"We decided as a family that we were not going to let that be his last call," Frank Siller said. "We decided we wanted to do something positive and everlasting with his life.
"We had no idea we would be building a beautiful home for a hero like Clark Cavalier and Adam Keys," he said. "All we wanted to do was honor the sacrifice that Stephen made that day and that so many others made that day."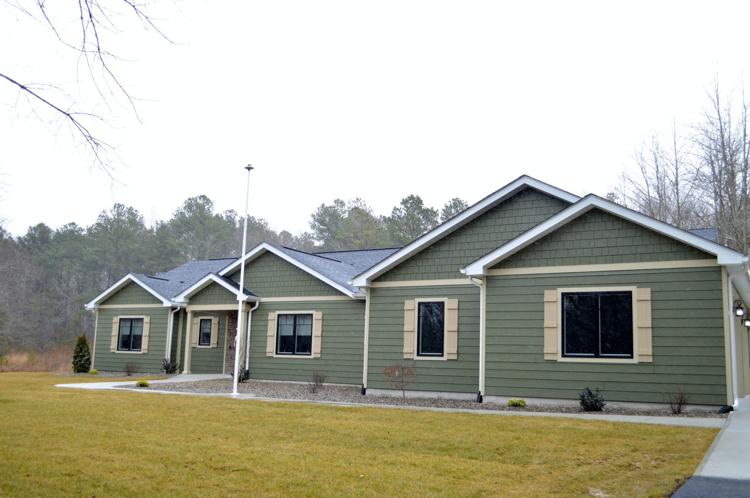 The foundation has 66 homes built or in the advanced planning stages for wounded veterans across the United States.
"We are glad that Clark is going to get this house today," Frank Siller said. "We hope it gives you back the independence that you sacrificed for your country. It is our way of saying thank you for the sacrifice that you made for our country.
"I like to thank all of our sponsors who do so much for the Tunnel to Towers Foundation that make days like this possible," he said. "We are blessed to have so many individual and companies that have joined us on our mission."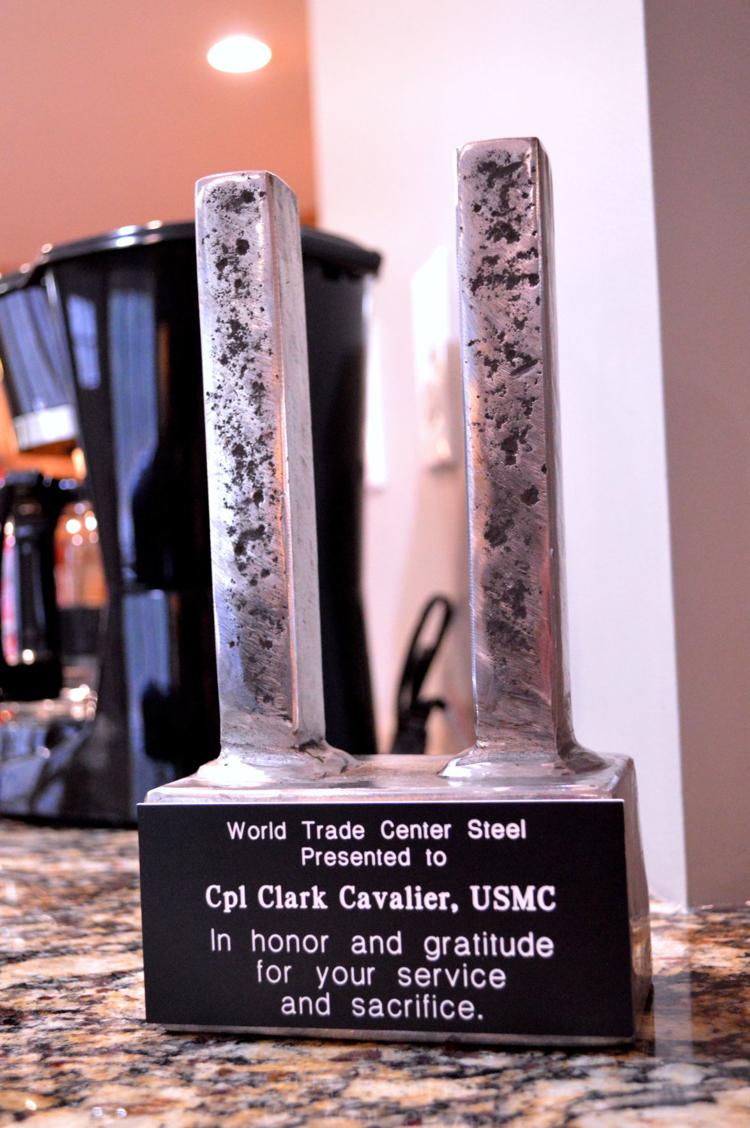 Cavalier also received a piece of steel from the World Trade Center from Frank Siller to commemorate the new house.
"This has the soul of my brother and the soul of so many others," Frank Siller said. "Remember Clark, that we are the land of the free because you are so brave."
The Goldsboro Volunteer Fire Company will be hosting an event this fall to raise money for the Stephen Siller Tunnel to Towers Foundation. More information about the event will be coming soon.